There's a new series in town that is worthy of binge-watching – "Russian Doll." The series tells the interesting story of cynical, newly 36-year-old Nadia, who keeps dying and returning to her birthday party. With each death and resurrection, Nadia attempts to uncover what is happening to her and how to break free from the continuous loop.
"Russian Doll" is a perfect blend of dark humour and sarcasm with a compelling, dramatic mystery. This, among others below, are the reasons you should start on this series, if you haven't.
Its fresh take on an established premise
The hook in "Russian Doll" is somewhat familiar but the show style and presentation are wholly its own. In the first episode, we meet a woman named Nadia who's celebrating her 36th birthday. The problem though, she keeps dying over and over and over again – and then reliving the night of her party. Just like déjà vu classics like Bill Murray's "Groundhog Day", Nadia can't seem to get her out of the recurring time loop she's trapped in. It's a series of complex, existential approach to alternate universes while also delving into the personal anxieties born from past events.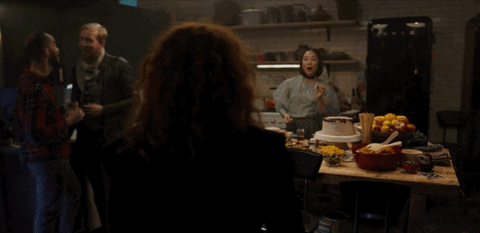 Its 100% rating on Rotten Tomatoes (initially)
"Russian Doll" was released on February 1st, 2019, and it already had 47 reviews at the time – and all was positive! A writer at Collider said the show is pure binge-watching magic, a show that's not only expertly designed to compel viewers to the next episode but invest just as much in the integrity of story and characters. Bingo! Although it has now been rated at 96% (which is still one great score), "Russian Doll" still presiding high with 8.1/10 on IMDb and 5/5 on Vox.
Its empowering female lead character
Many female characters in entertainment often fall flat and are one dimensional. Despite the leaps and bounds made in terms of progressive feminist representation in the recent years, "Russian Doll", however, is a league of its own – with a cynical tough and deeply multi-faceted Nadia, unlike anyone we've seen on TV before. With every episode, we dive deeper into who she is as a person and the things that has made her that way.
It's co-created by Amy Poehler
You may know and love Amy Poehler for her many roles on SNL or her hilarious sitcom "Parks and Recreation." So, it may come as no surprise that she's actually one of the major creative figures along with Leslye Headland behind this dark and twisty "Russian Doll". Amy has appeared in a variety of movies and TV shows, but she does a lot of behind-the-scenes work too. Considering her sharp comedic mind, you know there are going to be some darkly funny moments here.
Natasha Lyonne
Modern audiences probably recognises the show's lead actress and other co-creator Natasha Lyonne from her role as Nicky Nichols from "Orange Is The New Black." Natasha has actually had a long and varied career spanning several decades. But she may be at her absolute best as Nadia in "Russian Doll." Her performance as Nadia is stellar. She perfectly embodies her with a quick-witted attitude that is balanced out with the depression inside that eats away at her.
It's an ideal format for binge-watching
Broken down into eight episodes of about 25 minutes each, the "Russian Doll" series satisfies all types of audiences. With its wild pace and short format, you'll be able to watch the whole thing in only half of a day. To prolong the pleasure, the psychological and philosophical reflections that appear in each episode offer a slower approach to the series.