"Riverdale" fans have been shipping Betty and Jughead pretty much from day one. Jughead and Betty may be openly in love on the show, but Cole Sprouse and Lili Reinhart are far less forthcoming about their real-life romance. So much so, that some fans suspect the pair may have broken up recently. Despite the rumours, they're still going strong IRL and providing us with constant #relationshipgoals.
So how and when "Sprousehart" did actually became a thing? Let's take a look into the couple's relationship timeline.
March 18, 2017: Cole Shares A Photo of Lili From A Shoot
The pair first sparked dating rumours thanks to a photo that Cole posted on Instagram. The actor photographed Lili in a field of flowers in the gorgeous snap. The new shipper name known as "Sprousehart" is birthed.
April 22, 2017: Both Cole and Lili Continued To Post Photos From Their Photo Shoot
Cole shared another photo of Lili prancing through a flowery field, this time with a gushy, deep caption. Fans, now fully believing the two "Riverdale" actors are in a romantic relationship.
July 23, 2017: Things Heated Up At A Comic-Con Event
Eagle-eyed fans spotted Cole and Lili sneakily caressing one another's hands in an interview during Comic Con. Although, neither of the Riverdale stars had opened up about their relationship publicly at this point.
August 11, 2017: Skeet Ulrich Hinted At Their Relationship In An Interview
Cole's TV dad Skeet Ulrich opened up about just how real Cole and Lili's chemistry is in an interview. He said, "They have great chemistry. They've been at our house with a lot of the Riverdale people, and they always enjoy each other's company."
September 14, 2017: Cole Responded To Relationship Rumours In An Interview
Cole seems to suggest that "Sprousehart" is all in fans' heads in an interview but he doesn't exactly deny it either. He added, "Truthfully, it's very pleasing that people talk about Lili and I in that way because it means that we're resonating so strongly that people really want that to be true."
January 1, 2018: Cole and Lili Vacationed In Hawaii Together Over New Year's Eve
Cole and Lili spend New Years together in Hawaii. The couple that holidays together must be real, right?!
March 25, 2018: Cole Dodged A Fan's Question About Their Relationship Status
The cast of "Riverdale" hit up Paley Fest 2018 to promote their upcoming season two musical episode. A fan in the audience brought up the rumours and asked Cole and Lili to confirm if they were actually dating or not. And he said, "No comment."
May 7, 2018: Taking Over The Met Gala
Cole and Lili finally confirmed that they were together when they made their red carpet debut at the 2018 Met Gala (and looked fabulous while doing so).
August 4, 2018: Lili Posted A Heartfelt "Happy Birthday" Post For Cole
Lili celebrated Cole's 26th birthday with this adorable Instagram post. She ended the caption with "Happy birthday, my love." Yup, that's our confirmation!
November 22, 2018: Thanksgiving Cuteness
Lili and Cole took a big step in their relationship when they travelled home to Lili's family for Thanksgiving dinner. Ain't that cute?!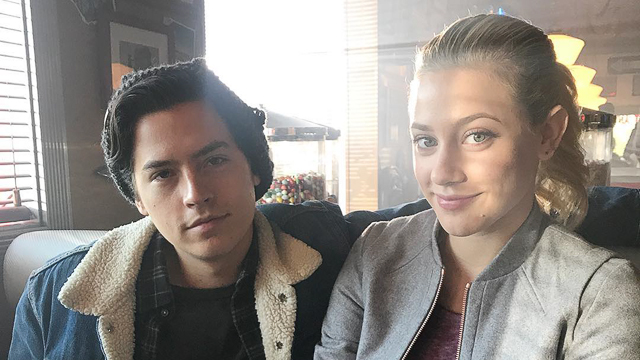 February 12, 2019: Setting The Record Straight Amid Breakup Rumours
Fans have been getting a bit concerned after rumors of the couple possibly breaking up have been going around the internet. But Cole and Lili set the record straight as Cole posted a hauntingly beautiful image of Lili laying in the snow.
March 7, 2019: "Five Feet Apart"
Cole's new movie, "Five Feet Apart" is almost here and Lili was there to support her beau during the movie premiere. They looked as cute as they posed together on the red carpet and even showed some super rare PDA.