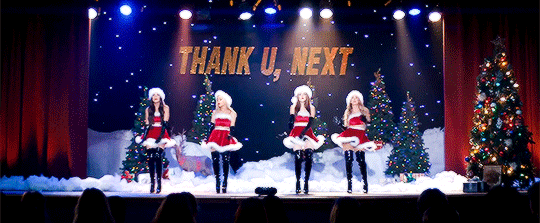 Alongside the intricate details to the mean girl's reference shirt too two huge references to her next singles 'Needy' and '7 Rings' in the video – did you spot them?
Somebody call the Grammy's and tell them that Ariana Grande has just won the best music video/ "Best Remake" category hands down. The already record-breaking video, 87 million views in two days which features almost 20 cameos from Ariana's friends, family and other famous pals (including ultimate "I'm not a regular mom, I'm a cool mom" Kris Jenner), is one massive homage to the 2000s rom-coms we all know and love – and it's perfect.
From the incredible attention to detail hidden within the tributes to the subtle hints about the titles of the songs Ariana will be dropping next, here's all the details you might have missed in the 'thank u, next' video:
1. The Burn Book full of secrets
Just like Regina George Ariana Grande has wrote about her exes in the infamous Burn Book. She had some pretty explicit things to say about her recent ex beau Pete Davidson and Pete's page, Ariana writes "sry I dipped," and "i love you always" as well as a cheeky reference to his "HUUUUUGE" you know what.., She leaves plenty to the imagination, doesn't she. Grande also claimed there might be hope of rekindling romance with Big Sean, in the burn book she says "so cute, so sweet, (could still get it)" and that Rick is a friend forever. Ricky and Ariana remained good friends following their break up so there's no bad blood in this burn book. Mac Miller is not featured in the book. On Twitter, Ariana explained that Mac wasn't in the book because he was "next to her on the bed." In the video, Ariana looks off to the side when she sings the line about him, and then up to the sky. I'll be right back cause this has just got me choked up.
2. Ariana switched up Regina's iconic 'A Little Bit Dramatic' tank
With a nod to one of her new songs. 'Needy' is one of Ari's upcoming singles. Or could she be hinting about her needy behaviour in her previous publicized relationship. I know Ariana is queen and shouldn't be dragged down, but you have to agree she could be spilling tea about herself.
3. Frankie Grande makes a subtle cameo
In the Bring It On sequence, there's a signed photo of Ari's brother Frankie doing figure skating on the bedroom wall. If you weren't paying attention you wouldn't have spot the tiny detail that is her brother skating in for a small cameo in the video.
4. The Rancho Carne Toros are now the Thank U Nexts
In Bring It On, the cheer squad had the letters RCH on their cheer costumes, while Ariana's team has TUN. Her song title has been referenced throughout the video another example would the Harvard logo for changed to Thank U Next instead.
5. The dolls house is the same as the one in 13 Going On 30
Well… aside from the paint job, of course. Ariana even included the oversized paper flower pot at the front of the house. This is the many scenes that I have to give props to Ariana and her team for paying attention to every single detail and having spot on with a little bit of Ari flavour. The dolls house even features paper Ariana in the bath, just like Jenna Rink. If Matt Flamhaff made this for Jenna, who made it for Ariana? AUBREY!?
6. The number plate on the Porsche reads "7 Rings"
'7 Rings' is another one of Ariana's upcoming singles. The title is also in direction to the seven rings worn by Ariana and six of her closest friends. It's also the same car that Elle from Legally Blonde pulls up to Harvard.
7. Ariana is reading a book on "Immigration and Refugee Law and Policy"
Oooo if that does not take a dig towards Donald Trump and his obstructive ways towards the Mexicans and the minorities of America, I don't know what is. Ari has got the right idea, that maybe the president might consider flipping through the Immigration and refugee law and policy book  for the sake of his nation. What, like it's hard?! THANK U NEXT, DONALD!!