People everywhere around the world uses emoji everyday to communicate. In fact, it has become an unofficial universal language – no matter where you are from. Using your emoji, you get to communicate with people from different countries with different languages. However, not every emoji is as it seems!
1. A Person Bowing  
CP EMOJI ISLAND
Often mistakenly used as a 'thinking' emoji but in fact, this emoji represents the sign of respect! It is known as 'dogeza' in Japan and is used to express a sincere apology, or to request a large favour.
2.Folded Hands 
CP IEMOJI
Commonly used as a symbol of 'praying' or as a 'high-5'. However, it is actually supposed to used as a sign of 'apology' or 'gratitude'. The two hands placed firmly together, means please or thank you in Japanese culture.
3.Information Desk Person
CP LIFEWIRE
This emoji is always mistakenly used for 'sassy' or 'sarcastic' remarks. But this emoji represents the an information desk person, iconically represented in the Apple emoji artwork – She's actually holding out her hand as if to say "How may I help you?"
4. Person Gesturing OK!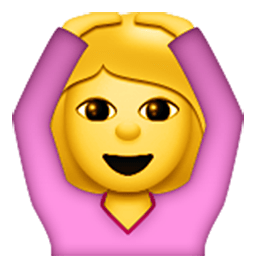 CP EMOJI.CO.UK
Mistakenly used as a sign of 'awe'. She is actually showing the sign 'OK' with her whole body by making an 'O' – a Japanese gesture.
5. Open Hands
CP EMOJI ISLAND
Usually used to show that they're above a task or are dismissing someone. The symbol actually represents openness or a hug!
Source: http://emojipedia.org/