Ariana Grande is on a high and she's not coming down any time soon.
The pop singer just unveiled the track list for her upcoming album, "Thank U, Next", while also surprising her fans by revealing that the album is set to be out on February 8! The 12-track LP features the previously shared singles "Imagine," "7 Rings," and title track. Songs titled "NASA," "Fake Smile," and "Bad Idea" will to also be on the record.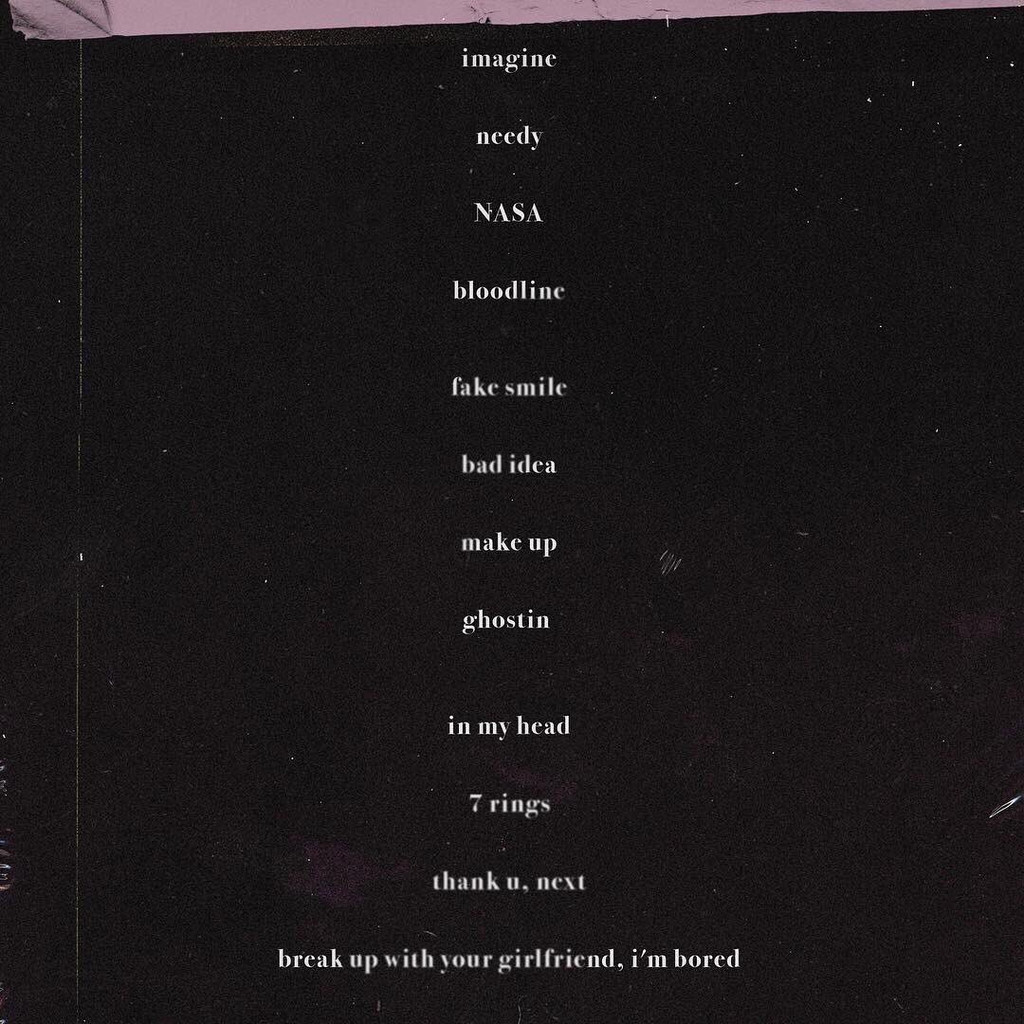 We're pretty excited for the list that's out, with songs titled "Ghostin," and "Break Up With Your Girlfriend, I'm Bored," that has got us anticipating as to what it could possibly be about. The Song "Needy" listed on her track has gotten people predicting that this might end up becoming to be one of her biggest hits. The tune was first shared by Ariana on her twitter account. The singer had then shared a behind-the-scenes look at the making of the song on her profile, which showed a few lyrics from the song. In one line she sings, "I can be needy, tell me how good it feels to be needed."
tell me how good it feels to be needed pic.twitter.com/myoGc788uV

— Ariana Grande (@ArianaGrande) October 5, 2018
In My Head, has gotten us to wonder whether it may be another similar song to her Sweetener track "Breathin", Ariana is known to be open about her mental health, and has shared her struggles with anxiety. This song may have also been traded by the singer for the track "Remember", which some believed could have been a song about her late ex-boyfriend Mac Miller, who died in September 2018.
The song "Bloodline" will be an interesting song to listen to once it's out. Ariana has always had a tight knit family that's revolves around strong women like her mother,Joan Grande, and her sweet grandmother, Nonna. It would be no surprise if this song is dedicated to the people she praises the most. We might see even more stored videos and adorable moments she's shared with her Nonna and beautiful momma.
The last title on the track list "Break Up With Your Girlfriend, I'm Bored," definitely got us confused, shook and wanting to get on our FBI mode and find out more of this song. The title itself is, SAVAGE! Fans are excited to hear what she has in store and are anticipating for a cat-fight- like- song.
Our ears are ready Ariana! We can't wait for this album.