StyleCaster
Ariana Grande is one songstress in the industry that has had a whirlwind of ups and downs when it comes to her love life. Through her time in the spotlight, the pop star has been connected to numerous men, but ever since her split with Pete Davidson in late 2018, she seems to be riding more or less solo.
So, is Ariana currently single? Here's everything you need to know about Ariana Grande's love life
Is Ariana Grande dating anyone right now?
While Ariana was previously linked to Mikey Foster of Social House, the pair reportedly broke up "around a month ago," according to Us Weekly.
Who has Ariana dated in the past?
Graham Phillips (2008-2011)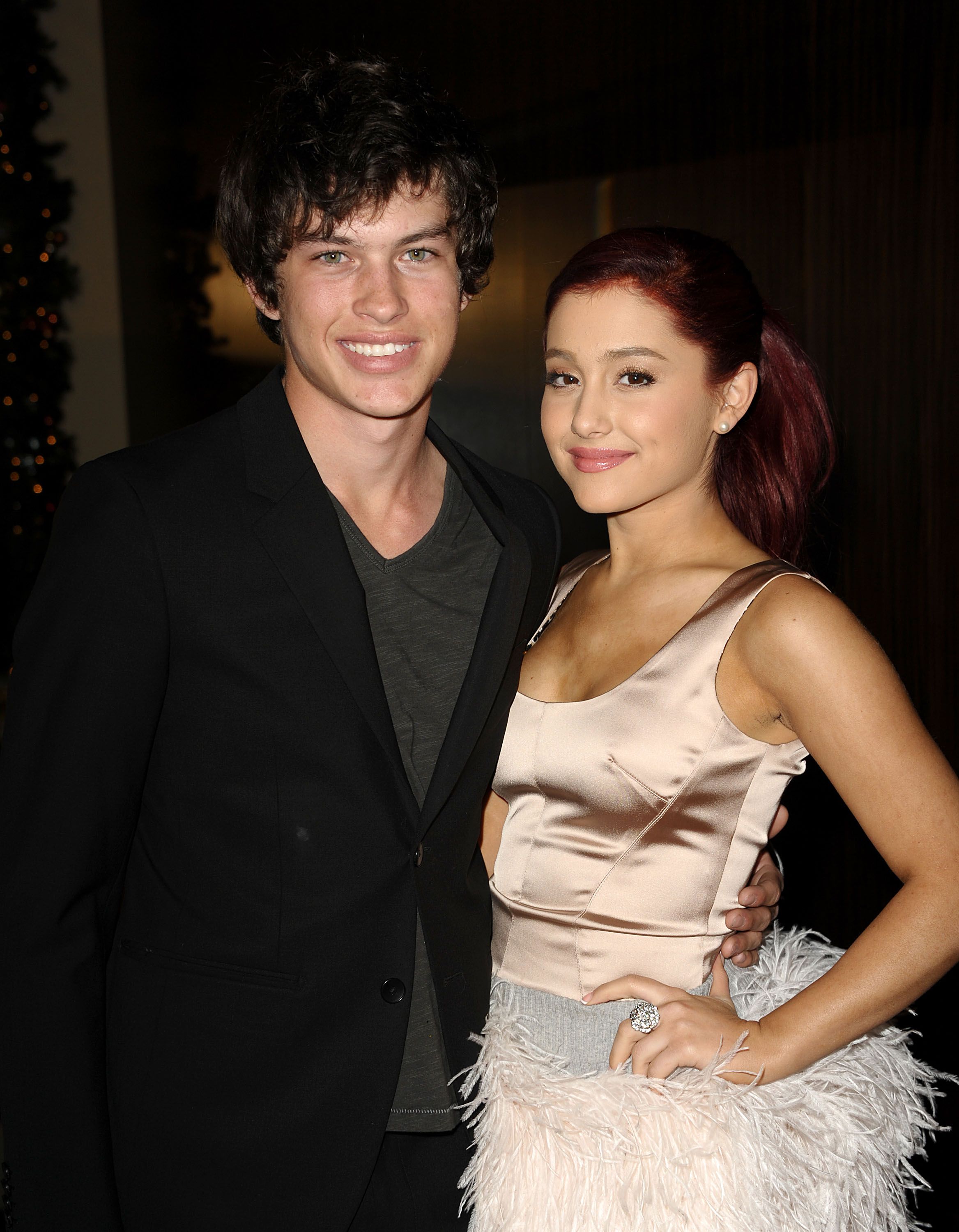 Ariana met Graham when she was 15 and they were both staring in "13: The Musical" on Broadway. But before breaking up, they did write a song together!
Jai Brooks (2012-2014)
J-14
Jai Brooks, an Australian musician who got in contact with Ariana when he and his brother were in a competition to see who could get Ari's attention first. The hashtag #JaiVsLukeForAriana started trending and Ari's mom noticed it and showed her. Unfortunately this relationship went sour, Jai broke up with Ari over text and accused her of cheating with a Wanted band member!
Nathan Sykes (2014)
Metro
The pair first met on a red carpet where they "locked eyes with each other all night," Ari said. With both being musically talented, the duo created one of the best love songs "Almost is Never Enough." The two had the time of their lives shooting the music video, sparks flew, and they started dating.
Big Sean (2014-2015)
People.com
The ex pair met when Sean collaborated with Ari on "Right There,"a song on her debut album Yours Truly. While they didn't decide to go public with their relationship until the 2015 Grammys, Glee star Naya Rivera, who was engaged to the rapper at that time, said she once found Grande in Big Sean's home when they were still dating. Ari and Sean didn't last long, but as we know…Sean could still get it.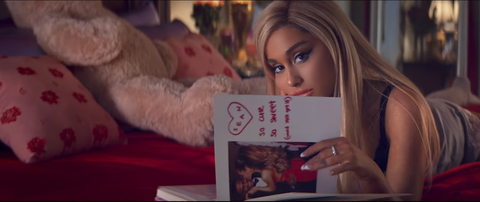 YouTube
Ricky Alvarez (2015-2016)
Pinkvilla
Ricky Alvarez was actually one of Ari's back up dancers! The two initially got everyone's attention when they kissed on stage during the 2015 Pride Festival.
The couple also made headlines that year when they went to a donut shop together and Ari infamously licked a donut!
You  might also recognize him from her "Thank U, Next" song with the lyric, "Wrote some songs about Ricky, now I listen and laugh." Ouch! Ricky had a hilarious response to the song, which made Ari admit that the dancer did, in fact, get the worst line.
Mac Miller (2016-2018)
Poeple.com
This man I would confidently say without a doubt, was Ari's love and soulmate! Rapper Mac Miller who she dated for two years after collaborating with him on the song "The Way." Mac was there for Ari after the Manchester shooting and even performed at the One Love Manchester Benefit Concert with her. The two unfortunately split in May 2018, although they didn't specify why they ended, Ari however later tweeted saying the relationship was "toxic" and "scary," so we can only assume Mac's substance abuse was the issue. In September 2018, Mac passed away of a drug overdose. Ariana took the death very hard, and it is rumored that his passing led to the end of her engagement to comedian Pete Davidson.
Pete Davidson (2018)
HypeMY
Ariana and Pete took the world by surprise when they announced their engagement after only dating for weeks. But like many saw coming the pair ended their engagement and broke up allegedly after  the passing of Mac Miller.
Mikey Foster (2019-2020)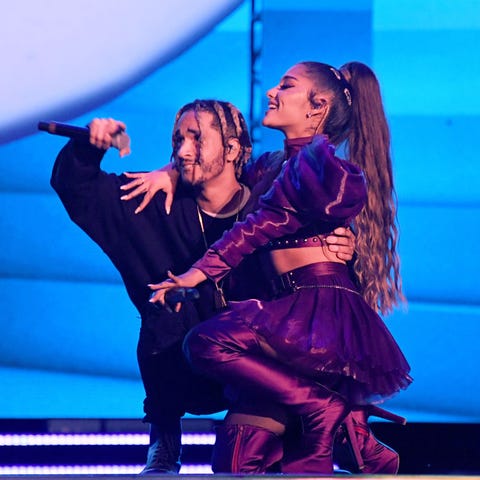 Elle
You know the song Ari sang alongside Social House's, Mickey Foster about boyfriends? Well yeah that's the guy! It all began when Mikey posted a super sweet Instagram for Ari's birthday.
The pair have worked together plenty of times with Mickey lending a hand on a couple of Ari's songs, he co-wrote and produced "7 Rings" and "Thank U, Next". Then in February both Ari and Mickey were caught walking hand in hand  around Disneyland and that the pair had been dating since June. But sadly just a month after they were seen together, Us Weekly reported that the pair has broken up.