Ariana Grande just dropped her brand new single, "7 Rings" off her upcoming album Thank U, Next! – with its accompanying music video.
After a highly successful campaign for her Sweetener album last year, she returned within a few months with the career defining hit "Thank U, Next". At the very end of the year she impressed us yet again with some dangerously high notes in the soulful R&B ballad "Imagine".  The Thank U, Next album is expected within the next few months and she just dropped this brand new fiery single "7 Rings".
In the Hannah Lux Davis directed video, Ariana flexes her body all over the kitchen as she throws a wild house party. Although there are several scenes filled with jovial partying, it's hard to keep your eyes off Ariana. The video featured Ari and her six best friends partying in a house flooded with extreme pink lighting concepts –  MAJOR LOVE!
While Thank U, Next was all about her ex's, this song is all about her best friends! In this latest breakup anthem, "7 Rings" is about financial independence and/or buying your way out of depression. Watch the video and you'll find the singer flaunting her wealth and her equally boss friends, making sure the listener knows just how blessed she is without a partner in her life.
You may find that the tune sounds similar. That is because Ariana took a melody from the The Sounds of Music's classic tune "My Favorite Things." The verses have the same melody line as the classic from the movie, in which Ariana sings:
"Lashes and diamonds, ATM machines, buy myself all of my favorite things."
Also, you can't find the chorus unnoticed as she shuts down the people that have been endlessly criticizing her high ponytail:
"You like my hair? Gee, thanks, just bought it!"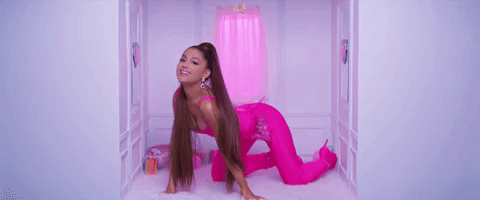 Listen to her lyrics and you'll know Ari's been serving – LIT! This has been the most hip-hop sounding solo tracks of her and she killed it. It was delivered in thick beats and with some laid-back chorus filled with attitude. What's more, it is so fun to hear Ariana rap on a single! (WE'RE SCREAMING!) With its trap-infused production, we have no doubt that it will be a surefire hit.
As you all may already know, she named the song "7 Rings" because she casually went to Tiffany's and bought her 7 best friends matching engagement rings. Totally casual!
One thing for sure, this empowering banger that will be blasted at every party for the rest of 2019. It's time to go listen to it on repeat!
Source: Pitchfork, YouTube