Billie Eilish the pop prodigy, the underdog, the blue haired avant gard artist has just publicized a new upcoming album When We All Fall Asleep, Where Do We Go?. Out in a month's time on March 29th via Darkroom and Interscope Records.
Her latest single 'Bury a friend' for sure sent shivers down my spine (me not being a horror fan and all), but honestly speaking it was not shocking coming from Billie, She is sort of notorious for…one would say divergent thinking.
That's the eerie album artwork above, no doubt inspired by the singer's obsession with horror movies. To think that she is only 17 years old, she wrote, produced, and recorded the entire LP with assistance from her brother Finneas in their childhood home of Highland Park, Los Angeles. Truly mind blowing, to think we were barely scrapping by school at that tender age. Previous singles "you should see me in a crown" and "when the party's over" are included on the 17-track effort.
'Bury A friend' was released paired with an equally skin-crawling visual, that evokes the wicked vibe of Marilyn Manson's Nineties clips. Directed by Michael Chaves the video stars Eilish as both a malevolent spirit and a girl under its possession, who stalks the halls of a gloomy, run down apartment complex and haunts its resident Eilish's voice is cast through a contort prism as she murmurs, "What do you want from me? Why don't you run from me?" Giving viewers an exorcist vibe and she hands down has the chops for a Horror film actress. Don't you think so?
"When we made 'Bury a Friend,' the whole album clicked in my head," Billie stated in a press release on Wednesday. "I immediately knew what it was going to be about, what the visuals were going to be, and everything in terms of how I wanted it to be perceived… 'Bury a Friend,' is literally from the perspective of the monster under my bed. If you put yourself in that mind-set, what is this creature doing or feeling?" "I also confess that I'm this monster," she adds, "because I'm my own worst enemy. I might be the monster under your bed too." Sometimes as fans we do wonder if she could be mentally disturbed, but personally think that the one who express their feelings are always called crazy. Go figure!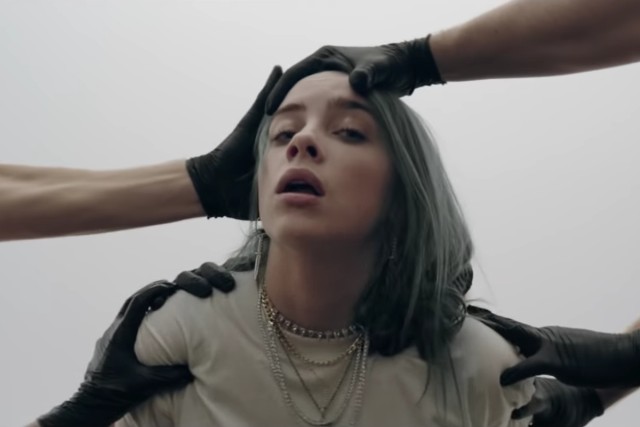 WHEN WE ALL FALL ASLEEP marks the follow-up to Eilish's Don't Smile at Me EP from 2017, which boasted breakout singles like "Bellyache" and "Ocean Eyes".
Billie also expressed in an interview that she isn't your typical artist, a lot of her songs in the upcoming album, are fictional and from a perspective that's not her, which is what she likes to write the most about. She isn't your creator that follows the stream of Hollywood and writes songs about their lifes. "There's only so much going on in my brain! So it's just coming up with new characters and new everything. It's kind of fun… even taking stuff from your life and putting it in a different way."
Billie is a gift to the music industry and shouldn't be shunned for not falling into stereotypes.This budding girl is frankly a force to be reckoned with.
When We All Fall Asleep, Where Do We Go? Track List
!!!!!!!
bad guy
xanny
you should see me in a crown
all the good girls go to hell
wish you were gay
when the party's over
8
my strange addiction
bury a friend
ilomilo
listen before i go
i love you
goodbye