1. The beginning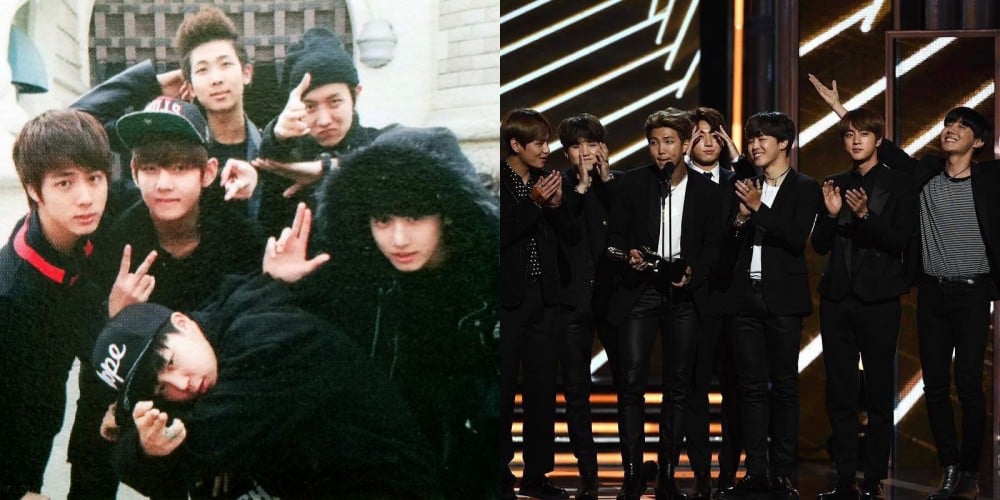 It was the early years of 2010 BTS was originally a small duo with RM and Iron. After some deliberation, Big Hit transitioned BTS from a duo into a group and this resulted in the addition of J-Hope, Suga, Jungkook, V, and Jimin, but as we all know Iron left. Fat forward. To the year 2012, Jin was recruited. Fun fact he was recruited by SM but thought it was a hoax so he refused.* In 2013, the seven members finally were united, little did they know about the path they were about to pave.
2. Debut
Voila! Debuting with "No More Dream," BTS sought to be a voice to share the experience of youth and be a portrayal of inspiration and hope. They began their voyage with a bad-boy dark aesthetic in their '2 Cool 4 Skool' era. The second part of their "school trilogy" was 'O!RUL8,2?' that failed to chart high. However, their last act school trilogy 'Skool Luv Affair' brought them back up to number three on Billboard's World Album Chart.
3. Born Singer
The beginning was a difficult time for the band to carve their name in a highly competed industry, many know as the K-POP industry. From difficulties landing big hits and facing troubles with touring agencies, BTS still powered through and released music and covers to express their emotions and thoughts through their art. The fans kept growing and simply proved that there is something worthwhile in this band. As a gift to their fans, the boys covered J.Cole's "Born Sinner" and retitled it "Born Singer" to celebrate their one month anniversary.
4. Difficulties with Highlight Tour
In 2015, BTS had their 'Highlight Tour' in the United States but faced a lot of disorderliness and disrespect. At this time, BTS was still a comparatively small group, but even during this time their loyal fans, called as the ARMY was always by their side tweeting and complaining to the company that mistreated the boys. This was a difficult time for BTS but despite it all, they still received much love and support from their early dedicated fans.
5. BTS' Breakthrough
Thankfully the band continued to push through the hurdles, because their next releases proved to a banger. Their Live Trilogy 'The Most Beautiful Moment in Life, Part 1' was the only Korean album to be included in Fuse's list of the "27 Best Albums of 2015 So Far." "I Need U" was a top five hit on weekly Gaon Digital Chart.
6. Young Forever
During the Young Forever era, BTS began to start soaring in popularity. They had a two-day concert in Seoul to support the release of their album. The group headlined US KCON in New Jersey and Los Angeles that sold out the arenas. Their album later won 'Album of the Year' at the Melon Music Award becoming the group's first major grand prize.
7. Youth
In 2016, BTS released their second Japanese studio album selling over 44,000 copies on its first day of release and ranking first in Japan. "I Need U" and "Run" were released as singles. While in Korea, "Blood Sweat & Tears" achieved "all-kill" in South Korea and later they won 'Artist of the Year' at the '2016 Mnet Asian Music Awards', becoming the first artist not from the big three entertainment companies (SM, YG, JYP) to do so.
8. Double Platinum
Finally!  In January 2018 BTS collected their first Double Platinum certification from RIAJ for their "Mic Drop/DNA/Crystal Snow" single and became the only single album by a foreign artist in 2017 to sell over 500,000 copies and receive certification on Oricon chart for the year.
9. Getting #1 on Billboard 200
BTS made history as their 'Love Yourself: Tear' was #1 on the 'Billboard 200' chart and entered the top 10 of the 'Billboard Hot 100′. It's hard for many established artists around the world to sell 1 million copies of an album in a week but BTS do that in pre-sales alone.
10. BTS' Legacy
Like many K-POP groups before them, BTS has grown to be a true inspiration for the up and coming groups. Over their brief time the industry, BTS was able to do things beyond the expectations of K-POP and make their place in the global music industry. From a rookie group from a small company to one of the biggest influences in music worldwide, the boys of BTS have proven to be a powerful force that only continues to grow. What's next? Maybe a Grammy Award? Don't fret because BTS has always achieved the unachievable.
Source: AllKPop