BTS Post Tweet Supporting Black Lives Matter And Here's What Fans Have To Say
BTS has also made multiple donations for the cause.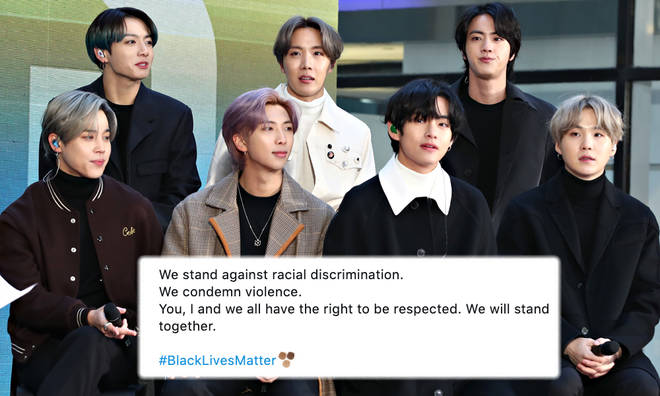 Capital FM
The ARMY has been awaiting for BTS's voice to be heard during the Black Lives Matter Movement that took over the world as every human being felt hurt and agony from police brutality against the black community that took the lives of many and sparked the movement after the passing of George Flyod.
Consequence of sound
The band posted a message, both in Korean and English, with the Black Lives Matter hashtag writing, "We stand against racial discrimination.
우리는 인종차별에 반대합니다.
우리는 폭력에 반대합니다.
나, 당신, 우리 모두는 존중받을 권리가 있습니다. 함께 하겠습니다.

We stand against racial discrimination.
We condemn violence.
You, I and we all have the right to be respected. We will stand together.#BlackLivesMatter

— 방탄소년단 (@BTS_twt) June 4, 2020
According to Newsis, the band is also making a donation to Black Lives Matter groups. Their entertainment company, BigHit, also released a statement that they will be make donations. There's no word just yet on whether BTS plans to announce the organizations and amounts later on, but the band has been known to make huge private donations in the past both as individuals and as a group.
These are some of the ARMY's responses:
THANK YOU FOR SPEAKING UP! I am so proud to have a message from my trusted buddies! I stan the right group!💜 we purple you! They're legends💜 pic.twitter.com/aytI6gkTaS

— BTS~𝓣𝓪𝓮𝓽𝓪𝓮𝓮𝓮 ⁷⟭⟬ (@7gaytookmyheart) June 4, 2020
i'm glad bts tweeted about the black lives matter movement, it has brought me comfort so i hope it does the same to you! and, remember, there isn't a specific time to be supportive – we need it every single day.

— 𝒃𝒊𝒃𝒊 🌈 (@lambseokseok) June 4, 2020
i woke up to bts saying something about black lives matter and i saw they have donated to multiple organizations.

i got really emotional because as a stan you want your faves to care about you as a person and what your people go through. i'm so happy they spoke up. it means sm.

— sheri⁷ #blm (@lovinimIivin) June 4, 2020