So perfect!
Ed Sheeran has collected his MBE from Prince Charles at Buckingham Palace on 7th December 2017.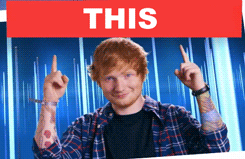 via Giphy
Hence, making him a member of the Most Excellent Order of the British Empire! The 26-year-old singer-songwriter, was awarded for his services to music and charity.
Ed was the most-streamed artist of 2017 and has supported supported various good causes.
Not only did he received an award, but he also managed to have a casual chat with Prince Charles. Pretty cool huh? \
In a interview with BBC, Ed told, "He (Prince Charles) was asking me if I was still selling lots of records and I told him I've got a concert in New York tomorrow, and he was quite surprised I was flying after this."
He added, that his late grandfather, Bill, who passed in 2013, was a "massive royalist."
"He had all the commemorative plates and stuff," Sheeran said, "and he died on this day four years ago, so it's actually quite a nice full circle thing. I guess he'd be pretty proud."
Congratulations Teddy!!!
Source : BBC