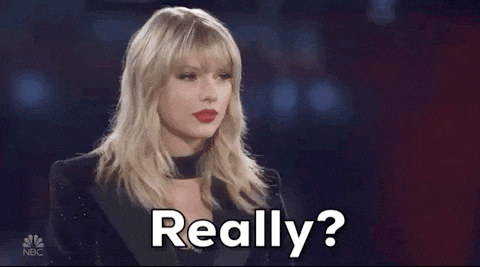 Why is this STILL an issue? Give her her music already!
Once again, we're hearing of Scooter Braun pulling a fast one on Taylor Swift. Variety has revealed that Braun has now sold all of Swifts master recordings to private equity firm, Shamrock Capital, in a deal that is reported to be worth more than $300m (RM1.23 billion). Taylor herself has since responded to the news of the sale, saying:
"This was the second time my music had been sold without my knowledge."
In a lengthy note on Twitter, Swift gave insight into the legal side of her dealings with Braun's team as well as what she knows from Shamrock Capital, the new owners of her music. She detailed how Braun's team attempted to use a non-disclosure agreement to "silence me forever" regarding terms of a potential sale while she had what was seen as very little chance of being able to buy her own music. She even included a letter she sent to the team at Shamrock Capital to let them know that while she had hoped to work with them following the sale, with the knowledge that Braun would still financially benefit from her music, she "simply cannot in good conscience bring myself to be involved in benefiting Scooter Braun's interests directly or indirectly".
While Bruan and his team have yet to respond (at the time of this article), Shamrock Capital has commented on the sale, saying:
"Taylor Swift is a transcendent artist with a timeless catalogue. We made this investment because we believe in the immense value and opportunity that comes with her work. We fully respect and support her decision and, while we hoped to formally partner, we also knew this was a possible outcome that we considered. We appreciate Taylor's open communication and professionalism with us these last few weeks. We hope to partner with her in new ways moving forward and remain committed to investing with artists in their work."
Since her reveal, multiple celebrities have stepped up to voice their dissatisfaction with Swifts situation – namely Sara Bareilles, who called the move 'greedy' and 'robbery'.
Taylor Swift has been battling celebrity manager Scooter Braun (he famously manages Justin Bieber and has worked with Demi Lovato, Ariana Grande, Justin Timberlake and more) for control of all her music. With full control of her music, Swift would be able to own the music SHE MADE,  earn greater royalty and sales revenue and have control over how her recordings are used. However, this battle started almost a year and a half ago (17 months ago, to be exact) when Scooter Braun and Scott Borchetta bought over Big Machine (Swift's first label) and were given the rights to Swift's masters – which caused her to release a long post on Tumblr accusing Braun of a plethora of negative acts. Amongst the accusations is one that states she was bullied by the 'Manager To The Stars'.
"I learned about Scooter Braun's purchase of my masters as it was announced to the world. "All I could think about was the incessant, manipulative bullying I've received at his hands for years."
 
Unfortunately, following the revelation, many stars came to the defence of both parties. Justin Bieber responded in defence of his manager, calling her "unfair", and accusing her of encouraging fans to attack him online.
View this post on Instagram
However, the support for Swift doesn't just stop at Bareilles. American Idol alum and 'Since You've Been Gone' hitmaker Kelly Clarkson has also shown Swift support from the very beginning, being the one to publicly call for Swift to take charge and rerecord all her older music.
@taylorswift13 just a thought, U should go in & re-record all the songs that U don't own the masters on exactly how U did them but put brand new art & some kind of incentive so fans will no longer buy the old versions. I'd buy all of the new versions just to prove a point 💁🏼‍♀️

— Kelly Clarkson (@kellyclarkson) July 13, 2019
And Swifties were only just starting to rejoice as the time had indeed come for Taylor Swift to rerecord her old music. In an old interview that Swift did back in August 2019 with the 'Good Morning America' cast more than a year ago, Swift shared that she had planned on re-recording her old albums in their entirety once November 2020 rolled around as she would then be legally able to do so. The albums include:
• 'Taylor Swift'

• 'Fearless'

• 'Speak Now'

• 'Red'

• '1989'

• 'Reputation'
And as she's revealed in her recent tweet, Swift is already hard at work re-recording her old music. Of this endeavour, she says,
"This is my only way of regaining the sense of pride I once had when hearing songs from my first six albums."
*Cover image credits: Instagram / @taylorswift,  @scooterbraun