Billie Eilish Pirate Baird O'Connell – or known to the world as, simply, Billie Eilish – has five Grammy Awards, two American Music Awards, two Guinness World Records, three MTV Video Music Awards, one Brit Award and as of yesterday, two Billboard Music Awards. She's been on TIME magazine's "Time 100 Next" list. Her songs are played all around the world and covered by thousands of different artists. She's on billboards and in adverts; she's done all this and she's only 18-years-old. However, that seems to be low on the priority scale for some as they seem to prefer shaming the young talent for her body over critiquing her music.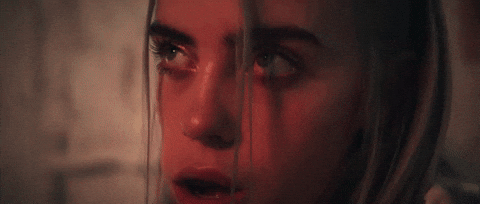 Eilish, who has expressed her preference for baggy clothing (more on that later), was recently photographed out and about in La in shorts and a tank top. Lo and behold – under her signature baggy clothing lies a normal girl. However, one internet troll decided to take it upon himself to comment on her appearance.
In response, Eilish reposted a TikTok by blogger Chizi Duru on her Instagram story. In the clip, Duru says,
"Y'all gotta start normalizing real bodies, okay? Not everybody has a wagon behind them, okay? Guts are normal; they're normal. Boobs sag, especially after breastfeeding. Instagram isn't real."
Thankfully (and rightfully so), Eilish is receiving more love than ever with everyone from Madonna to MTV condemning the troll.
Thinking about what it would be like to be growing into adulthood and having your body shape be a trending topic.

Billie Eilish is 18 years old, y'all.

eight-teen.

— The Cursed Madonna (@Blessed_Madonna) October 14, 2020
Billie Eilish isn't going to see your comments about her appearance but your friends who have a NORMAL body will

— Rotten Robbie (not affiliated with Robbie Rotten©) (@nextlevelrobbie) October 14, 2020
.@billieeilish is a queen, end of story. pic.twitter.com/sk1eSVoJ0R

— MTV (@MTV) October 14, 2020
Billie Eilish is beautiful! PLEASE, do not body shame her, or anyone for that matter. Body shaming is not "news" or "gossip" it's HARMFUL and UNACCEPTABLE.

— Jessie Paege (@jessiepaege) October 14, 2020
For Eilish, her day to day choices are constantly scrutinised as a public figure, thus allowing her to use her platform to properly give voice to something that renders her so vulnerable. The message of the video is artistically crafted and layered to send the message that what the public thinks is not our "responsibility". Eilish points out how she is constantly judged for how she is dressed and what she chooses to do with her body. Starting off in a hoodie and then ending in her tank top in a pool of dark water, she takes back her narrative and the rights for people to talk about her body.
"Do you know me–really, know me? You have opinions about my opinions, about my music, about my clothes, about my body. Some people hate what I wear; some people praise it. Some people use it to shame others; some people use it to shame me. But I feel you watching, always."
Last year, Billie spoke to Dazed about the criticism she received after posting an image of herself – on her own personal Instagram account – in a bathing suit. Comments ranged from unsolicited advice to flat out insults. She told Dazed how she felt like she would be criticised no matter what she did.
"There were comments like, 'I don't like her any more because as soon as she turns 18 she's a w****.' Like, dude. I can't win. I can not win."
She also shared why she made the choice to keep her body private during her "My Calvins" campaign with Calvin Klein back in 2019, saying how she wanted to keep some aspect of her to herself.
She revealed her stance as never wanting the world to know everything about her because if the world hadn't seen what she was underneath, they couldn't have an opinion.
"I never want the world to know everything about me. That's why I wear big, baggy clothes. Nobody can have an opinion because they haven't seen what's underneath."
Eilish goes on to mention that after all that, the final and most powerful truth is the answer to the question…
"If I wear more if I wear less, who decides what that makes me? What that means? Is my value-based only on your perception? Or is your opinion of me not my responsibility?"
Watch the mesmerising new video here and be inspired:
We don't agree with shaming in any form. Follow the message in Billie's words because at the end of the day, you can't please everybody – and you shouldn't want to. Your opinion of yourself is all that matters.