BLACKPINK recently made a comeback with their first full-length album in 4 years after forming the group. Appropriately titled, "The Album", the 25-minute long album contains eight different songs including collaborations with Cardi B and Selena Gomez.
Now, with the release of new music, fans of the group are once again calling for a more even distribution parts amongst the members. This includes the line distribution in songs, positions during dances, screen time in music videos as well as fairness in terms of outfit ch0ices. For the longest time, it seemed like line distribution has been dependant on popularity and recently, more parts seemed to have gone to members Lisa and Jennie. However, amongst the calls for fairness, is the even chance for each girl to say the iconic opening in their songs,
"BLACKPINK In Your Area"
The line – first uttered in their debut song, "BOOMBAYAH", back in 2016 – has since reappeared in most of their singles (although sometimes merely said as "BLACKPINK"). As of yet, Thai main dancer and rapper Lisa has been the one to say "BLACKPINK In Your Area" the most, having said it in "AS IF IT'S YOUR LAST", "KILL THIS LOVE" and "HOW YOU LIKE THAT". Rapper Jennie is a close second having said it in "BOOMBAYAH" (she shares the line with Rosé and this is Rosé's only time saying it) and their Wonder Girls Remix of "SO HOT". Jennie also says "BLACKPINK IS A REVOLUTION" their song "Forever Young". Both Rosé and Jiso have not had a chance to say the line yet, leading to frustration amongst fans of the group.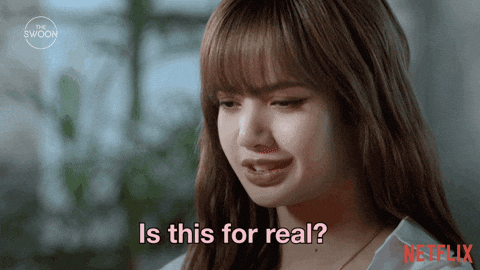 BUT, ever since the release of their new album, fans have been speculating that member Jisoo has finally been given the chance to shine with the line in the song "Pretty Savage". And in what appears to be an interaction between a fan (BLACKPINK fans are known as BLINKS), member Jisoo confirms that it is indeed her that says the iconic line in their new track.
[TRANS: Chichi Ch+]
BLINK: "Chu, are you the one who said 'Blackpink in your area' in pretty savage???!! I'm curiousㅠㅠㅠ💖💖"

Jisoo: "Yes, you're right kekeke that's funny keke it was harder than I expected kekeke" pic.twitter.com/m1GsLHxOyX

— 젠바 🙈💕 (@blackpinkbabo) October 12, 2020
Needless to say, fans are elated by the revelation – having had to wait a solid 4 years to hear the 25-year-old utter the line.
The girls have been actively promoting both "Pretty Savage" along with their title track, "Lovesick Girls" on Korean music shows and broadcasts. Lisa has also said that "Pretty Savage", the third track off their album, is her favourite, with the girls singing about their rise to fame as a K-POP group in the global music industry while addressing the hate they receive on social media regarding their image.
While the song doesn't have a music video, you can watch their live performance here (and catch a glimpse of Jisoo's debut as the opener for the groups' song):
You go girls!