If you haven't already heard, 'Princess Diaries' actress and the actress-that-never-ages, Anne Hathaway is starring in a creepy, witchy movie where she plays the 'Grand High Witch', a powerful and evil witch who is the leader of all witches in the world. Now, the buzz surrounding the movie is due in part to the star-studded cast (which includes Octavia Spencer, Stanley Tucci, Kristin Chenoweth and more) as well as the fact that it is a remake of the critically acclaimed 1990 movie and 1983 novel of the same name by famed author  Roald Dahl's. However, following the various marketing images and clips that have emerged leading up to the release of the film, the movie is now facing criticism for its use alterations of Anne Hathaway's hands.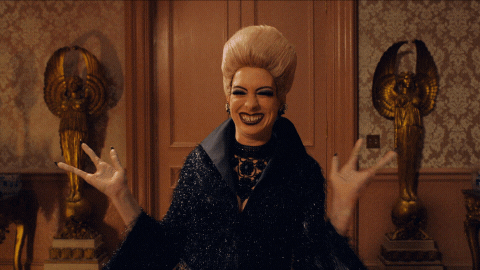 Instead of having 5 fingers on both hands, Hathaway is seen with three fingers on each as she shows her 'scary', 'witchy' side. Unfortunately, because of the combination of the bodily change and the fact that it only appears when Hathaway is at her 'witchiest', numerous disability advocates have said that the correlation made between the two paint people with similar disabilities in a bad light. To be specific, it compares people who are born with Symbrachydactyly (a congenital abnormality where, in many cases, bones will be missing from the fingers and some fingers or toes may be missing altogether) to witches. Paralympian Amy Marren called out the choice on Twitter, stating:
"Please educate yourself on #LimbDifferences and the support the idea that you are #NotAWitch because you look different! You can also actively support the limb difference community by using words that describe us as PEOPLE, as it's not the difference that defines us."
Limb difference is not scary. Differences should be celebrated and disability has to be normalised. #NotAWitch calls out '#TheWitches' movie for portrayal of disability 👉 https://t.co/aSY1U6TymE pic.twitter.com/UCU87bUeV8

— Paralympic Games (@Paralympics) November 3, 2020
Marren's remarks — as well as statements from other groups including the Paralympic Games, which tweeted that "limb difference is not scary" — were echoed by the nonprofit Lucky Fin Project. The project is run by a mother, whose daughter has Symbrachydactyly and aims "to raise awareness, support and celebrate those born with symbrachydactyly or limb difference" tweeted that the choice to alter Hathaway's limbs to "make her more creepy and sinister is upsetting."
View this post on Instagram
The resulting backlash has prompted Warner Bros. to address the situation, with a spokesperson releasing a statement that reads:
"We the filmmakers and Warner Bros. Pictures are deeply saddened to learn that our depiction of the fictional characters in 'The Witches'could upset people with disabilities and regret any offense caused. In adapting the original story, we worked with designers and artists to come up with a new interpretation of the cat-like claws that are described in the book. It was never the intention for viewers to feel that the fantastical, non-human creatures were meant to represent them. This film is about the power of kindness and friendship. It is our hope that families and children can enjoy the film and embrace this empowering, love-filled theme."
Hathway herself has since addressed the backlash by including a video from Lucky Fin Project on Instagram alongside the caption:
"Let me begin by saying I do my best to be sensitive to the feelings and experiences of others not out of some scrambling PC fear, but because not hurting others seems like a basic level of decency we should all be striving for. As someone who really believes in inclusivity and really, really detests cruelty, I owe you all an apology for the pain caused. I am sorry. I did not connect limb difference with the GHW when the look of the character was brought to me; if I had, I assure you this never would have happened.

I particularly want to say I'm sorry to kids with limb differences: now that I know better I promise I'll do better. And I owe a special apology to everyone who loves you as fiercely as I love my own kids: I'm sorry I let your family down."
Available on HBO Max just in time for Halloween, 'The Witches'  centers on young boy who stumbles upon a gathering of witches while staying with his grandmother at a hotel. After finding out their evil plan to turn the world's children into mice, he works with his grandmother to thwart their wicked plot.
*Cover image credits: 'The Witches' Instagram