At age 74, Sylvester Stallone has been in the movie industry for over 50 years – and he has yet to slow down. Since his breakout as the writer and lead of the Academy Award-winning boxing film 'Rocky', Stallone is now one of the most recognisable actors in Hollywood. He's recently wrapped up filming for his upcoming superhero movie 'Samaritan' while working on a director's cut of 'Rocky IV'. Now, he's adding another role to his already impressive repertoire. The New York-born actor has confirmed that he's nabbed a role in the upcoming 'Suicide Squad' movie.
James Gunn, who is directing the sequel to the 2016 movie about the DC Comics supervillain team, confirmed that Stallone is involved in the movie, by posting a cute picture of the duo alongside the caption,
"Always love working with my friend @officialslystallone [and] our work today on #TheSuicideSquad was no exception. Despite Sly being an iconic movie star, most people still don't have any idea what an amazing actor this guy is."
View this post on Instagram
Stallone had initially posted a video of himself announcing the news, sharing:
"Good morning everyone it's Saturday and I'm in my way over to do a little work with a great director James Gunn on Suicide Squad 2 and I think it's going to be a spectacular effort."
However, he has since deleted the post and instead replaced it with one of a headline about the news. He captioned his repost:
"Working with this incredible Director on this astounding project has made this an amazing year. I am a very lucky man to be surrounded by such talent!"
View this post on Instagram
This is not Gunn and Stallone's first hoorah together, having once worked on 'Guardians of the Galaxy Vol. 2', with Stallone in a small (yet meaningful) role and Gunn at the helm. While the original 'Suicide Squad' film was directed by David Ayer, the second instalment is being viewed as a relaunch of the first, which failed to live up to the hype and expectations of fans and critics alike. The jump for both Gunn and Stallone from the Marvel Cinematic Universe to the MCU will see them working alongside Margot Robbie returning as Harley Quinn, Viola Davis as Squad mastermind Amanda Waller, Jai Courtney as Captain Boomerang, and Joel Kinnaman as Rick Flag. Also set to be in the movie are Idris Elba, John Cena, Joel Kinnaman and Peter Capaldi. Jared Leto has also recently been confirmed to reprise his role as the Joker. Stallone's role, however, has yet to be revealed but the movie pundits at Deadline have speculated that he may be bringing the villain, 'King Shark', to life.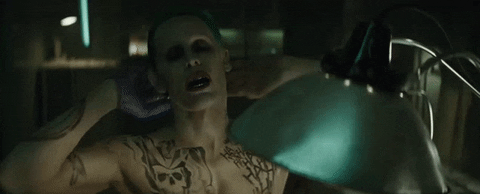 Fingers crossed that the movie has not been hit with the same woes that most productions have been facing since the coronavirus pandemic put a halt to almost all forms of productions. If so, we can expect to see the movie drop on Aug. 6 next year (2021).
*Cover image credits: Instagram / @officialslystallone