Believe me when I say that I'm crying as I write this. As a Kimbit (aka fan) 'Kim's Convenience' saying goodbye to the family after five seasons and 65 episodes, seems almost surreal. All I want to do is scream: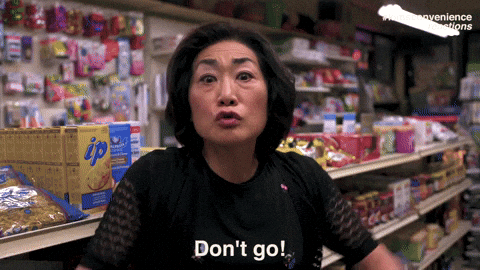 But, 'Kim's Convenience' has closed up shop. Following the announcement in March that the show would be cut short (it was originally renewed for a sixth season), season five of the show will be the family's last on TV. And if you think you're having a hard time saying goodbye, you aren't yet ready to see what Paul Sun-Hyung Lee, Jean Yoon, Andrea Bang, Simu Liu, and Andrew Phung have to say.
Andrea Bang aka Janet Kim
View this post on Instagram
Sharing two separate posts, Bang thanked the cast, crew and the fans of 'Kim's Convenience' for following along with the antics of the family, and shared her hopes that the Kim's find their happiness in the episodes that they were unable to film. The 31-year-old didn't hold back her disappointment in the way that the show was cancelled, writing:
"While I'm very upset about how this show ended, I'm grateful for the people, the years and it's contribution. Let's keep turning the dial onwards and upwards. Because being seen is the bare minimum."
She also acknowledged the opportunities that 'Kim's Convenience' granted her as well as what it meant in terms of representation.
"Kim's Convenience has given me so much and I wish it didn't end like this. But I like to think beyond the 5th season, the Kim's family of characters find happiness and Janet's parents finally say the four magic words to her: "I'm proud of you". For me, Kim's has shown someone like me can be both Canadian and Korean. Once while backpacking, I told someone I was from Canada and he waved his hand over his face and said I didn't look it. For so much of my life, my hyphenated identity was questioned. So to be on a show about a Korean-Canadian family, it's been a privilege and an honour. And not only that, for different cultures to have seen themselves in our big lil show…😭."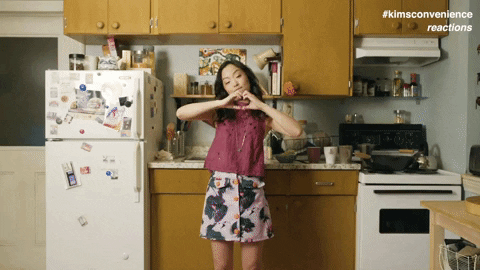 Simu Liu aka Jung Kim
View this post on Instagram
The Shang Chi star bid adieu to the show with a heartfelt message, reiterating his previous message that the show's cancellation had nothing to do with the cast nor the ratings.
"My fondest Kim's Convenience memories of these past five years have been meeting and interacting with our fans. Without you, there wouldn't have been a second, or third, or fourth, and certainly not a fifth season. From the bottom of my heart, THANK YOU. The show was NOT cancelled because not enough people were watching. It was cancelled because the producers made a decision against many of our wishes. I'm sorry we couldn't give you the finale you wanted."
Paul Sun-Hyung Lee aka Mr. Sang-Il (Appa) Kim
Lee, the Korean Canadian actor and television host who plays Appa in the sitcome, actually plays the character in the original 2011 play as well. To mark the ending of the sitcom, Lee set up his first-ever live stream in which he reflects on his 10-year journey of as Appa on Kim's Convenience. It starts with Lee in character as Mr Kim (just seeing him as Appa made me want to cry!!!) in his signature checkered shirt and half-rimmed glasses as he thanks his fans:
"I want to say from me to you, thank you. For 5 year, you let my family into you home and I want to say thank you for that wonderful gift. And, uh, remember, hmm, we's still around on Netflix and CBC, you can always visit our family, and who know, maybe one day we all get the ending that we want. Until then, from my heart to you, ok, see you."
Also in the live stream, which runs for almost two hours, Lee (back as himself) address the controversial premature cancellation of the show; he even gets a little emotional as he says:
"It hasn't all been wine and roses, obviosuly. The ending of the show, very barupt, very messy. But I don't want to dwell on that, I don't want to dwell on that right now. I want to focus on the positives of it because 'Kims' has meant so much to myself personally. […] I don't want the legacy of Kim's Convenience, for me, to be tainted by that. I want to celebrate what it is."
Lee also says that the ending of the season worked as a season finale, but let him "feeling a little empty" as a series finale and wondering, "That's it?"
Jean Yoon aka Mrs. Yong-Mi (Umma) Kim
In true Umma fashion, Yoon posted multiple, different tweets as she reflected on her time on the show. Like Lee, Yoon was also part of the original cast of the play, in the same role as the matriarch of the family. In her tweets, Yoon thanked members of the crew, while also sharing a few BTS photos of co-star Simu Liu and his shenanigans.
I swear to god, every photo I have of @SimuLiu he is photobombing with THIS face. The Face of a PHOTO BOMBER. Sometimes he's mid-air cuz he's that kind of guy, the somersault in the parking lot guy. But he always has this face. And everyone else is like… again? pic.twitter.com/rjpyG17ysW

— Jean Yoon (윤 진 희 or 尹真姬) (@jean_yoon) April 13, 2021
But the one goodbye that may break your heart? Her goodbye to her character.
"Good night, Kim Young-mi. You've worked hard at "Kim's Convenience" for 10 years, so take a break now."
안녕히 주무세요, 김영미 씨. "김씨네 편의점"에서 십년 동안 수고 하셨으니까 지금 점 쉬세요. #Okseeyou pic.twitter.com/PjHL0x9MPt

— Jean Yoon (윤 진 희 or 尹真姬) (@jean_yoon) April 13, 2021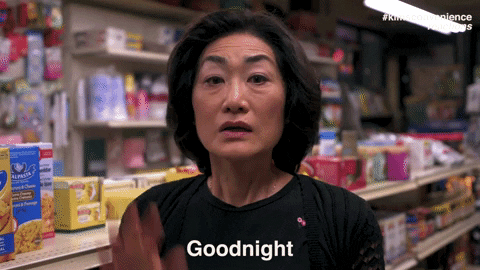 Andrew Phung aka Kimchee
Taking to both Twitter and Instagram, the 38-year-old actor and comedian thanked the writers of 'Kim's Convenience' ("It was an honour to act out your stories, words, and jokes,") as well as the team of Directors who "helped [them] discover [their] characters, craft these stories, and unleash the funny".
View this post on Instagram
His goodbye, however, was even more bittersweet on Instagram, where he captioned an image of himself and the Handy Squad:
"As we head into the series finale of #KimsConvenience I want to reflect and thank people I've had the honour of working with. I'm so going to miss working with my Handy Squad. Days filled with laughter, pranks, and sandwiches. I loved making comedy with each of you."
I… I'm not ready to say goodbye to the amazing, amazing show nor its characters and cast but what's done is done. The fifth and final season of  'Kim's Convenience' will drop on Netflix soon, with it scheduled to be available on the streaming site "shortly after" the series finale (aired on April 13 on the CBC in Canada).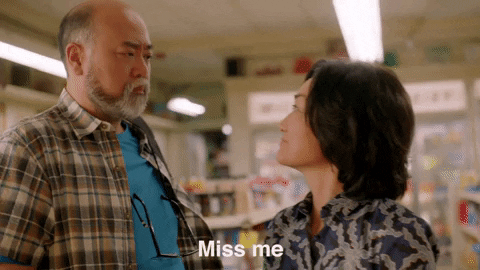 *Cover image credit: @jean_yoon