Ella Marija Lani Yelich-O'Connor, where have you been?!
Since last dropping Melodrama in 2017, Lorde has been off the grid. Aside from occasionally updating her not-so-secret but really-quite-odd second IG account, she hasn't been very active on social media (the last IG post on her verified account is from 2018).
'Royals' Singer Lorde Has A Whole Instagram Account Dedicate To…
But now, she's back with, possibly, her happiest track yet. Titled, "Solar Power", Lorde radiates happiness as she dances in the sun, on the beach and generally has a wonderful time just… being. In an email to fans, Lorde introduced '2021 Lorde':
"There's someone I want you to meet. Her feet are bare at all times. She's sexy, playful, feral, and free. She's a modern girl in a deadstock bikini, in touch with her past and her future, vibrating at the highest level when summer comes around. Her skin is glowing, her lovers are many. I'm completely obsessed with her, and soon you will be too."
She also confirmed that rather than just releasing a single, she'd be releasing her third album – yes, the very one she's been teasing since 2019. Sharing the tracks title, her album is…
"… a celebration of the natural world, an attempt at immortalising the deep, transcendent feelings I have when I'm outdoors. In times of heartache, grief, deep love, or confusion, I look to the natural world for answers. I've learnt to breathe out, and tune in. This is what came through. I want this album to be your summer companion, the one you pump on the drive to the beach. The one that lingers on your skin like a tan as the months get cooler again."
Everything about the first track off the album embodies exactly that. It's light, summery and genuinely a pleasure to listen to.
Fans can expect more from Lorde, who confirmed (during an interview with Triple J) that she will be releasing more music videos for the tracks from the album. How many? She didn't say. But! If they're anything like "Solar Power" – which is likely, as she said many of them were filmed on the same beach – it doesn't matter how many we get because just seeing the 24-year-old this happy is making us happy!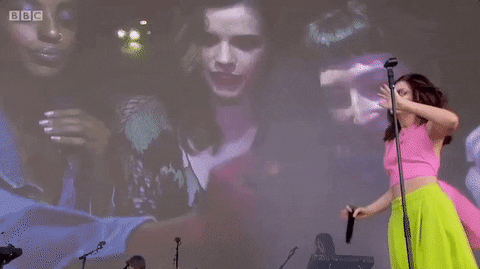 In her email to fans, Lorde also said she's teased "a truly comical amount of detail" in the album rollout — possibly taking a note from her friend Taylor Swift — and noted how "Solar Power"'s release coincided with a solar eclipse. She wrote:
"You can look to the natural calendar for clues. I'm trying to listen to what's out there more, and the vibe I got was that you're ready for this, that you need it."
YES, WE DID! Welcome back, Lorde!
*Cover image credits: Lorde