Despite calls that it "ruined their childhood", the live-action adaptation of the "Winx Club" comics was well-received enough that they've decided to go ahead and bring back the fairies of Alfea for a second season!
Set to begin filming for their eight brand-new hourlong episodes in Ireland later this year, showrunner Brian Young said in a statement…
"The six episodes in season one only scratched the surface of this incredibly rich world and the powerful fairies who inhabit it. As Bloom's story continues to evolve, I can't wait for you to learn even more about Aisha, Stella, Terra, and Musa! And you never know who might show up at Alfea next term…"
Could this mean… Winx Club fans may finally see Techna? Flora? After all, when Netflix first introduced their vision for the live adaptation of the popular 00s' comics, general reception for it was less than lukewarm. In the original comics, Bloom (now played by Abigail Cowen), Stella (Hannah van der Westhuysen), Musa (Elisha Applebaum), Techna and Flora make up the original Winx club. However, Techna is nowhere to be seen while Flora is mentioned in passing as Terra's (Eliot Salt) cousin.  The series also received backlash over the casting of Applebaum as Musa, who was coded as East Asian and whose character design was based on Lucy Liu, as well as the apparent replacement of Flora, who was coded as Latina and whose character design was based on Jennifer Lopez, with a new character named Terra.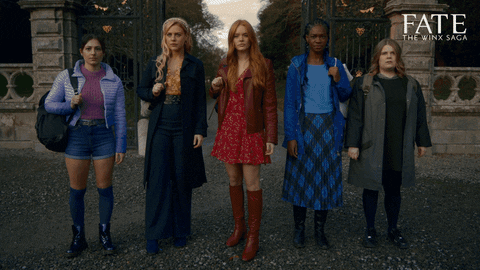 Cast member Cowen has also addressed the casting backlash, telling The Wrap that Terra was introduced without ever having been intended as a replacement for Flora. She added:
"If we are lucky enough to get a second season, I think Flora would be brought in and I would definitely welcome that. I'm not a part of the casting process, but I do think, if the series does go to a second season, I think hopefully these concerns are something that can be addressed, because I do think diversity both in front of and behind the camera is vital and much-needed throughout the industry and internationally. So I think it's important that we are having these conversations."
Of course, it wouldn't work for Netflix to do a live adaptation that follows too closely to the comics. In the same vein that they've followed with 'Riverdale' and 'The Chilling Adventures of Sabrina', Netflix has effectively taken the premise (and capitalised on the large following) that the existing story has to introduce a "gritter" take on the otherwise sparkly, sunnier version. Nevertheless, the series stuck close enough to the original comics that Winx fans would have stayed if only to see how the show would develop the complex background of Bloom's origins.
With season one of 'Fate: The Winx Saga'  being surprisingly short (just six 50-minute episodes) and ending on a cliff hanger, we definitely can't conceal our curiosity for how the show intends to tie everything together in season 2! Based on the fact that they intend to start filming only at the end of this year, it could only be as soon as summer 2022 that we may be seeing our fairies back on Netflix.
*Cover image credit: Instagram / @fatenetflix