*WARNING: Spoilers ahead; although really, there are whole books that have been out for years 
on the series but, do proceed with caution if you'd prefer to be kept in the dark, dear reader.*
Yes, we're going to get MORE of the Bridgertons' on TV and…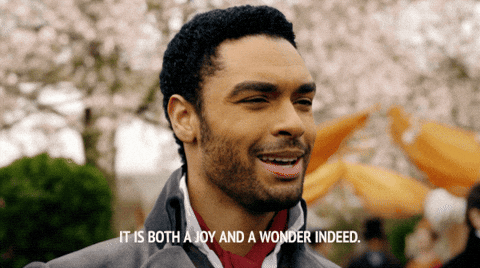 If you're a fan of the show, you'll know that the series is based on books by author Julia Quinn. Quinn is a well-known romance author, whose stories actually branch out into different members of the Ton, and there's far more to the Regency drama than just the Bridgerton family. Nevertheless, it made sense to start with the Bridgertons, who – just like in the series – are held in high regard. As someone who has read every. single. one. of her books (I kid you not), I basically know every character and every story arch in Quinn's world. With that being said, I wasn't too surprised to hear that Regé-Jean Page wouldn't be returning for Season 2 of the Netflix's series – but, if they remain faithful to Quinn's quill, this isn't the last time you'll see the Duke of Hastings HEHE. After all, each book of Quinn's places focus on a new character and their love story. Season 2 will focus on the eldest Bridgerton sibling, Anthony (based on Quinn's book: 'The Viscount Who Loved Me') but with the news that Netflix has already secured season 3 and 4, who and what can we expect from the Regency series?
If we're going by the books, Season 3 of Bridgerton would seemingly follow: 'An Offer from a Gentleman'
The story in 'An Offer from a Gentleman' may sound familiar:
"Sophie Beckett never dreamed she'd be able to sneak into Lady Bridgerton's famed masquerade ball—or that "Prince Charming" would be waiting there for her! Though the daughter of an earl, Sophie has been relegated to the role of servant by her disdainful stepmother. But now, spinning in the strong arms of the debonair and devastatingly handsome Benedict Bridgerton, she feels like royalty. Alas, she knows all enchantments must end when the clock strikes midnight.
Ever since that magical night, a radiant vision in silver has blinded Benedict to the attractions of any other—except, perhaps this alluring and oddly familiar beauty dressed in housemaid's garb whom he feels compelled to rescue from a most disagreeable situation. He has sworn to find and wed his mystery miss, but this breathtaking maid makes him weak. Yet, if he offers his heart, will Benedict sacrifice his only chance for a fairy tale love?"
The timeline in the book may be a hurdle for the series, as Benedict meets Sophie in 1815 at a masquerade ball at the Bridgertons before she disappears and reappears in 1817 (or maybe easily remedied with a well-placed cameo in season two?).  Alà 'Cinderella', no? That is if Cinderella had a story half as funny, endearing or – let's be honest, risqué – as that of Sophie Beckett and Benedict Bridgerton.
View this post on Instagram
Meanwhile, Season 4 of 'Bridgerton' could bring to life: 'Romancing Mister Bridgerton'
If the show decides to wait until season four to finally bring these two together, well, it's going to be worth the wait.
"Penelope Featherington has secretly adored her best friend's brother for… well, it feels like forever. After half a lifetime of watching Colin Bridgerton from afar, she thinks she knows everything about him, until she stumbles across his deepest secret… and fears she doesn't know him at all.
Colin Bridgerton is tired of being thought nothing but an empty-headed charmer, tired of the neverending sameness of his life, and, most of all, tired of everyone's preoccupation with the notorious gossip columnist Lady Whistledown, who can't seem to publish an edition without mentioning him in the first paragraph. But when Colin returns to London from a trip abroad, he discovers nothing in his life is quite the same—especially Penelope Featherington! The girl who was always simply… there is suddenly the girl haunting his dreams. But when he discovers that Penelope has secrets of her own, this elusive bachelor must decide… is she his biggest threat—or his promise of a happy ending?"
By now, you'll know that in almost all of her books, Julia Quinn's leads get a happy ending – you'll be happy to know that Penelope's is one of them. But just because you know what happens in the end, doesn't mean that the journey to that end is boring – nuh uh. Penelope's story is heartwarming, lovely and intriguing in the way it plays on secrecy.
View this post on Instagram
Of course, these plots are not set in stone. Adaptations are known to take liberties as and when they like – like with the reveal of Lady Whistledown's identity, which doesn't happen in the 'Duke & I', but in a different story – so we might see unexpected plot twists. And although it's highly unlikely the Netflix series will venture into the other books (she show is called 'Bridgerton', after all), it isn't impossible for them to throw in a different character and plot that suits the timeline of the show. I for one am really, really, really hoping they bring 'Splendid' to the small screen!
In any case, with the production of Season now underway (The Hollywood Reporter that the cast held its table read on March 29), it'll be a little while away until we find out who's up next in line for the hit Netflix series.
*Cover image credits: @bridgertonnetflix