The handsome devil is back, and this time he is working for the Time Variance Authority (TVA). 
"This variant is insubordinate, stubborn, unpredictable,"  Ravonna Lexus Renslayer, played by Gugu Mbatha-Raw tells Owen Wilson's Mobius M. Mobius. 
"He's really good," Mobius replies, "but really arrogant."
Well, that definitely sums up the God of Mischief in a nutshell. 
During a Marvel-inspired NBA telecast on ESPN, Marvel Studios has revealed a special look at the new 'Loki' series set to premiere on Disney+, starring English actor Tom Hiddleston along with Wunmi Mosaku, Sophia Di Martino, and Richard E. Grant. 
This series picks up after the scene in 'Avengers: Endgame' where Loki is seen stealing the Tesseract. Now an alternate version of him is brought upon the mysterious Time Variance Authority (TVA) who gives him a choice: to either accept being scrubbed out of existence for being a "time-variant", or come on board to help fix the timeline and stop a looming threat. 
The New 'Loki' Trailer Explained: Who Are The TVA & What Is The 'Antman' Connection?
But hey, it's Loki. When has he ever listened to anyone but himself???
It's weird to think that this is the Loki variant that has never experienced the events in 'Thor: The Dark World' and 'Thor: Ragnarok'. Without these two films shaping his personality and giving him his redemption arc (like when he sacrifices himself to literally die in Thanos' giant purple hands at the beginning of 'Avengers: Infinity War') who exactly is he?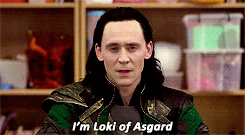 'Loki' is set to premiere on Disney+ on June 11, so jot it down in your calendars!
In the meantime, you can watch the "Special Look" video below!
*Cover image via 

Marvel Studios