Finance Rewind 
Netflix show The Umbrella Academy will be back for yet another exciting and thrilling season. The superhero drama just announced a whole bunch of new cast members, all of whom are part of the new Sparrow Academy, which replaced the Umbrella Academy after the Hargreeves siblings messed with time and freaked their adoptive dad out so much that he decided not to adopt them after all. Meet the members down below:
Sparrow #1: Justin Cornwell will play MARCUS
A charming, chiseled, honest, virtuous, and demanding, Marcus keeps the family together. Simply put he is leader material!
Sparrow #2: Justin H. Min will play BEN
This is not the sweet Ben we know and love. The new Ben is vicious, pragmatic, and hyper-vigilant.
Sparrow #3: Britne Olford will play FEI
Fei sees the world in a special way, comes off as a misanthrope who would rather be alone.
Sparrow #4: Jake Epstein will play ALPHONSO
Years of crime fighting have left his face and body with constant reminders of his battles. But fret not this guy has a sense of humour and loves pizza!
Sparrow #5: Genesis Rodriguez will play SLOANE
A romantic and a dreamer! Sloane tethered to the Academy, as does her fear of crossing the family line.
Sparrow #6: Cazzie David will play JAYME
Jayme is a loner hidden under a hoodie. She doesn't say much because she doesn't have to.
Sparrow #7: Existential Dread Inducing Psykronium Cube will play CHRISTOPHER
Christopher is a telekinetic cube of unknown origin. He can turn the room freezing cold and induce paralyzing fear.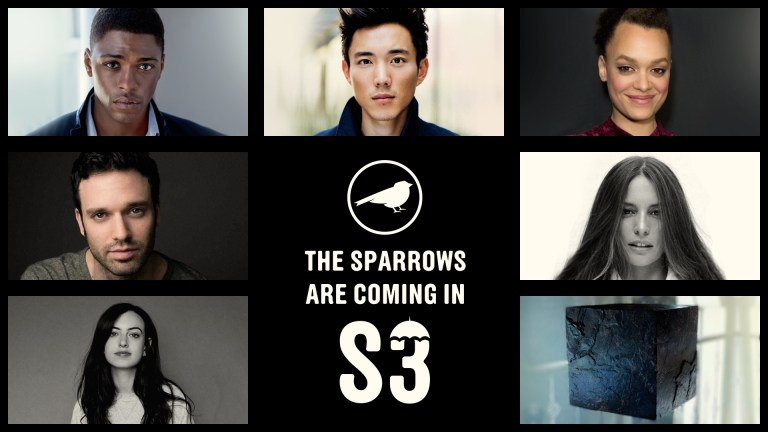 Netflix
Production on The Umbrella Academy season 3 will begin in February. Elliot Page, Tom Hopper, David Castañeda, Emmy Raver-Lampman, Robert Sheehan, Aidan Gallagher, Ritu Arya, Adam Godley, Colm Feore, and Justin H. Min will all reprise their characters.