Today, it was announced that one of the longest running reality TV shows Keeping Up with the Kardashians will come to an end in 2021. In honour, of the show people have been sharing their favourite scenes, episodes, and moments. So we can't help but share some of the most iconic ones!
1. 
When Kim lost her diamond earring in the ocean:
2.
When Khloe went to jail and Kim was taking selfies
3. When Kim and Khloe talked to a woman they thought were on drugs 
This is my forever favorite scene from Keeping Up With The Kardashians. I am so sad it is ending 💔 #KUWTK pic.twitter.com/L5UQRJOKu2

— Millster (@millyfckinrock) September 8, 2020
4.  
When Kim heard Kourtney and Khloe gossiping behind her back, so she hit them with her Birkin Bag 
5. 
When Kendall called her mom "cute jeans" and confused her
6. 
When Kim gave us her iconic meme crying face
7. 
When Kris invited the neighbours 
8. W
hen Kourtney made fun of Kim for crying and kept laughing
STELLAR.ie
9. 
When Khloe screamed "LIAR!!!" after finding out she got cheated 
10. 
When Kim lied to Kendall and Kylie because she didn't want to hang out with the sisters
11. 
When Kris called out Kim for being married for only 72 days
12. 
When Kim and Kourtney physicaly fought and Kim's foundation got all over the wall
still not getting over kourtney getting kim's foundation on the wall after beating the shit out of her 😭 pic.twitter.com/mHxcBnFPd8

— mark (@kkuranation) September 8, 2020
13. 
When Kim called Kourtney a hypocrite
KUWTK is ending and i just want to thank Kim and Kourtney for giving us this iconic moment. "then why does your car have leather seats? why are you wearing plastic sunglasses?" 😭😭😭😭😭😭😭😭 pic.twitter.com/yPxbxSRwjT

— ☽ (@princesworId) September 8, 2020
14.  
When Kim went berserk on Kourtney
15. 
When Kourtney, Kim, and Khloe found Kris doing a sexy photo shoot, and they were mean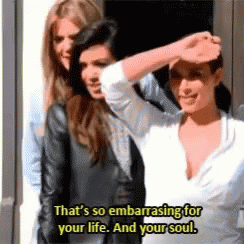 Tenor
16. 
When Kim said THIS
17. 
When Scott was actually Todd Kraines!
18. 
When Kris holds a pet pig and Kylie asked if it was a chicken
19. When Kourtney had a major face malfunction
20. 
When the entire clan did impressions of each other
Goodbye, Keeping Up with the Kardashians, we'll  miss you
Gifer