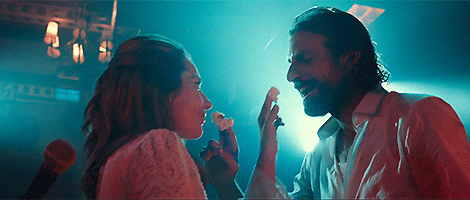 A star is Born came out in October 5th but Bradley Cooper and Lady Gaga will probably be singing each other with praises and admiration until the end of time, for they have been fawning over each other in the press and award shows and the recent Gaga Las Vegas concert, for so long that I cannot remember a time or era when they did not know each other's names. Yeah there was a point in time where their paths did not cross people!
In the months leading up to the film's release, they've talked about how they fell in love. They've talked about how they grew to trust one another on set. They're talked about sharing that fateful plate of leftover pasta. He lifted her veil. She held his hand. At first, it was touching. Now, it is mildly nauseating. Tomorrow, I cannot say. Either way, their public declarations of affection during the press run for A Star Is Born have been truly admirable.
But before you get a head of yourself, I think they personally connected, emotionally, and mentally, they simply clicked. I don't think they are leaving their significant other for each other, but it does cause suspicions doesn't it?
Their relationship should be a huge indication that the film and their chemistry between each other is honestly enchanting. It makes me believe that their characters were truly in love. At the movie's Venice Film Festival premiere, Cooper lifted the veil Gaga wore with her dress and they even held hands. Note: both their significant others were there and every lowest-of-the-low tabloids insinuated many cheating scandal. Ladies and gents, women and men can hold hands and remain friends! It's not the end of the world. The infatuation with the Gaga-met-Bradley storyline is a totally healthy thing, according to relationship and family psychotherapist Paul Hokemeyer, PhD. In fact, in the wake of the #MeToo movement, he believes it couldn't come at a better time.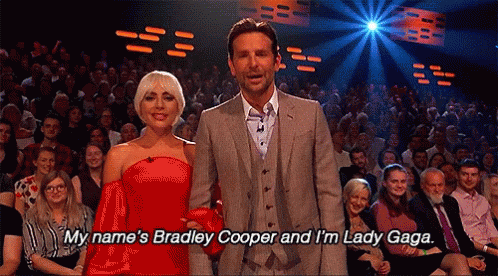 Bradley Cooper and Lady Gaga's deep respect and admiration for one another is refreshing. Furthermore, he explains that one of the main lessons we can learn from them is that heterosexual men and woman can benefit from being in intimate friendships with members of the opposite sex for a variety of reasons.
But what if your partner does get jealous? Of course, while it all sounds rational and good, but platonic friendships among members of the opposite sex can inspire jealousy from each respective romantic partner. However, being open and honest about the relationship should help quell any jealousy. And I believe that Clearly, Lady Gaga and Bradley Cooper have already learned this.
This is one friendship I can see lasting longer than time.