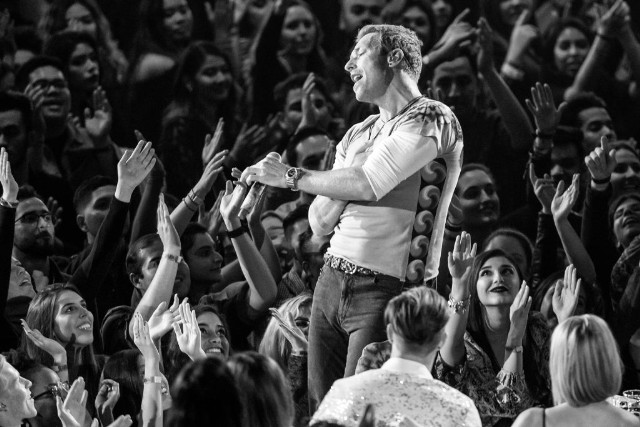 What's going on? Chris Martin and the band Coldplay just released a new song called "E-Lo," which features Pharrell Williams and rapper Jozzy, hold your horses that's not the shock factor here, it's the fact that they might have just changed their name? The name Coldplay doesn't appear anywhere on the track. Instead, the track is accredited to Los Unidades, which is a new name for Coldplay. Parlophone, the record label who runs Coldplay now unfortunately goes by the name Los Unidades a "new signing" in a tweet on Monday, which featured a blurry image of the new band. The image, however, includes the message: "Y02LPAC81ODL,"no it's not a code for a bomb threat, when unscrambled, reads "Coldplay 2018!
Hold Up! I'm confused, have they changed their name or not? Stop playing games Coldplay because you have just sent shock waves through the world! But here is a clue that might shine light to this mysterious case. The band's full identity hasn't been confirmed. But the band members of Coldplay registered "Los Unidades" as a trademark, Pitchfork reported.
Coldplay's Chris Martin, Will Champion, Jonny Buckland and Guy Berryman are listed among the song credits on music platform TIDAL, too.
Parlophone Records are delighted to present new signing #LosUnidades pic.twitter.com/TZWr5ilJXu

— Parlophone Records (@parlophone) November 26, 2018
Hmmm is this a publicity stunt? Something might be brewing, we Coldplay fans will just have to wait and see or rather hear. But fret not, those of you who have no clue, Coldplay wasn't always called Coldplay! Yes ladies and gents, they were once named 'Starfish'. Well I'm glad they outgrew that because I don't see myself screaming at the top of my lungs 'STARFISH' at their concerts.
Coldplay's manager Dave Holmes commented on the new song and EP. "It was a real honour to help further the Global Citizen movement by putting together this release alongside Chris and Parlophone. We've ended up with so many incredible performers, and we're all extremely proud of the finished EP. May it be the first of many.
Even with the change of name Coldplay's 'E-Lo' couldnt be anything other than Coldplay. Unlike Pharrell's presence, the true identities of Los Unidades are immediately clear. Before you hear almost anything else, there's Martin's voice, swooping through the kind of melody and rhythm he's become with poised, almost euphoric, but with an air of zen to it  as he declares: "And there's nowhere I'd rather be." I have goosebumps just singing that line.
The whole new name fiasco generated even more intrigue and excitement than your standard "Coldplay release new song" might, gaining even more attention and publicity for something that doing good fro the world, Global Citizen aims aim to end poverty, amongst other things. Lets be real whats more Coldplay than that?
If Coldplay thought that little things as changing names was going to stop people from being able to stop people from being able to spot their handiwork, they were much underestimating their fans.