There are some celebrity couples who just belong together — despite their multiple breakups and makeups, their personal differences, or their busy schedules that keep them apart. And such is the case with Liam Hemsworth and Miley Cyrus.
After ten years, they're FINALLY married on 23rd December 2018. And recently, Liam has revealed that Miley took his last name, surprising everyone—including him.
So, how did a relationship that started on the set of a romantic movie turn into a literal real-life fairytale?
June 2009 – They met on set
Miley and Liam's love story began in when they filmed "The Last Song". The movie focuses on a young couple during one emotional summer. It was Liam's first major role, as well as Miley's first big role outside of "Hannah Montanna" franchise.
March 2010 – The make their red carpet debut
Miley and Liam became official after making their first red carpet appearance together at the Oscars. Then they walked the red carpet together at the premiere of "The Last Song."
August 2010 – They break up for the first time
After a few months together, Miley and Liam break up. According to sources, the relationship ended because of Miley's busy work schedule and that she wasn't ready for such a serious relationship at such a young age.
September 2010 – They got back together
Just a month after their break up, the couple is seen running errands together in Los Angeles. A source reportedly confirmed that the two were, indeed, dating again.
November 2010 – They break up for the second time
The drama continues… just two months after they get back together, they split up, again. A source told that the two were simply taking a break while Miley was on her European tour and Liam was back in Australia.
March 2011 – They're back together
Our hearts didn't have to break for long! Miley and Liam are seen together yet again a few months later. This time, they're apparently taking it slow and just enjoying each other's company.
June 2012 – The confirm their engagement
The two were going strong for a year and shortly after, Miley was seen rocking an engagement ring. Miley said, "I'm so happy to be engaged and look forward to a life of happiness with Liam."
February 2013 – Miley denies cheating rumours
Celebrity blogger Perez Hilton accuses Miley of cheating on Liam with Ed Westwick. She quickly shut down Hilton's rumour on Twitter.
@perezhilton hope you find love one day but can you not fuck with mine. I've never been with Ed W in my life. I was at the studio last night

— Miley Cyrus (@MileyCyrus) February 8, 2013
March 2013 – Miley confirms they're still engaged
Miley was seen without her engagement ring, sparking speculations that the engagement is off. She tweets about her frustrations, announcing a break from social media. A few days later, she tweeted this picture as proof she was still wearing her ring.
It's a onezie PARTY 🌈 (of one) pic.twitter.com/2ldCmo12PY

— Miley Cyrus (@MileyCyrus) March 20, 2013
September 2013 – The engagement is off, for real
Miley unfollowed Liam on Twitter, and a few days later, both Liam and Miley's reps confirmed the couple's engagement was off. Just a day later, Liam is seen kissing model Eiza Gonzalez. In her first performance after the split, Miley broke down while singing "Wrecking Ball", a song reportedly about Liam.
November 2014 – Miley starts dating Patrick Schwarzenegger
A year after their split, Miley started dating Patrick Schwarzenegger. They reportedly dated for a few months but broke up in April after he is seen with another girl while on spring break, though he denies cheating.
November 2015 – Miley helps Liam adopt a dog
Mile and Liam seemed to have reconciled as by November 2015 when Miley helped her ex adopt a dog named Dora the Explorer.
October 2016 – Miley confirms their re-engagement
While sources told that Miley and Liam were engaged once again, neither one of them confirmed it until months later. Miley confirms her re-engagement on The Ellen Show.
May 2017 – Miley releases "Malibu"
Miley told the world she was going to release her new song, a love song about Liam and the desire to reclaim the narrative surrounding of their relationship. "They're going to talk about me if I come out of a restaurant with Liam. So why not put the power back in my relationship and say, 'This is how I feel'?" – Miley revealed in an interview.
November 2018 – The couple's house burn down
Wildfires ravaged through numerous homes in California— Miley and Liam's being one of them. Liam shares a heart-breaking photo on his Instagram featuring the remains of their house. The couple later gave $500,000 to the relief effort.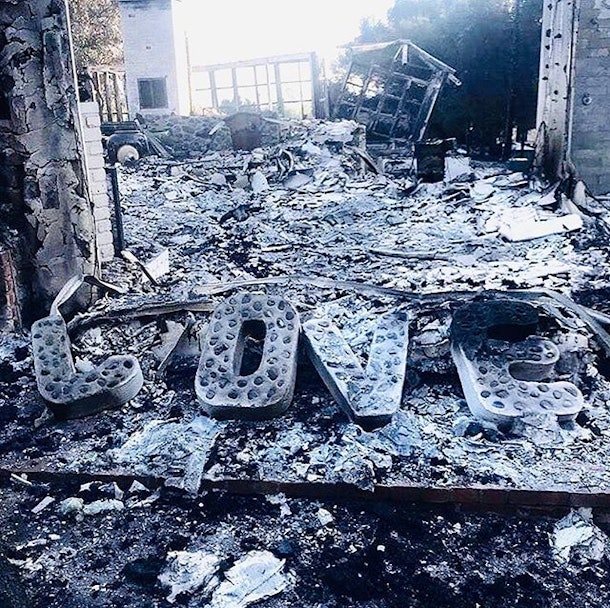 December 2018 – Liam & Miley tied the knot!
And after ten years together, Miley and Liam finally tied the knot in an intimate ceremony at the couple's home in Tennessee. They were surrounded by loved ones filled with sweet, sweet moments.
January 2019 – First public event as newlyweds
Miley and Liam attended the G'Day USA Gala in Los Angeles where Liam received the excellence in film award. When accepting his award on stage, he took a minute to thank Miley, his wife, for her support.