Without a doubt 2018 has produced numerous films that have went viral and it was year of inclusivity of people from different races and backgrounds on the silver screen. So here are few movies that were talked about constantly in the year 2018:
1. Black Panther
When Black Panther came out in January, boy, was it the talk of the Globe. The year epically began with a box office bang as Black Panther exploded into theatres. Fans and critic went couldn't get enough of Michael B. Jordan's villainous performance and the thrilling afrofuturism on display, making it Metacritic's most discussed movie of 2018. Wakanda forever!
2. To all the boys I've loved
When talking about the most talked about movie of 2018, I have to hand it to this movie. People were raving for weeks if not months on how good it is and shoving it down our throat. If you're looking for a fun, sweet, romance to brighten your day, you won't do much better than watching To All the Boys I've Loved Before. Based off the novel by Jenny Han, the story follows Lara Jean (Lana Condor), a teenager whose worst nightmares are realized when five letters she wrote to her secret crushes are sent out without her knowledge. When she's confronted by her old crush Peter (Noah Centineo), she's afraid it could get in the way of her current crush Josh (Israel Broussard), so Lara Jean and Peter resolve to fake a relationship so they can get with who they really want to be with. Naturally, pretending to be together starts to create real feelings between the two. The film is a joy from start to finish, letting you relive a time when who "liked" you was the most important thing in the world, but without any of the trauma high school entails.  Its factor of having a main actress as an Asian started the ball rolling for other movies to showcase more Asian representation. Asian power!
3. Ocean's 8
Oceans 8 definitely got people talking when the famously renowned movie of the all-male cast is now an all-female cast, not to mention it has an all-star celebrity cast with Sandra Bullock, Cate Blanchett, Anne Hathaway, Mindy Kaling, Sarah Paulson, Rihanna, Helena Bonham Carter, and Awkwafina. Fans were rolling into theatres to get every bit from each of the celebrities. And thankfully the movie didn't disappoint
4. A Wrinkle in Time
A Wrinkle in Time may not have made a hit for Disney as they had hoped for, but fans were buzzing on their choice of diverse casting which also included a heavyweight supporting cast and their over the top visual effects. It definitely got our attention, for the first few minutes.
Wasn't the hit that Disney might've hoped, but fans loved to talk about the over-the-top visual effects, the heavyweight supporting cast and the gloriously diverse cast.
5. Jurassic World: Fallen Kingdom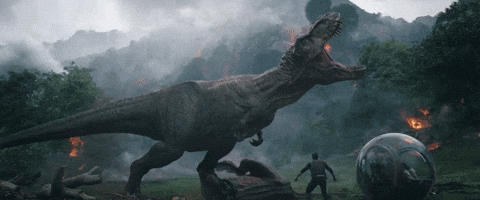 Jeff Goldblum and Chris Pratt appear in dino-sequel Jurassic World: Fallen Kingdom. After an entertainingly strange second half, many fans couldn't wait to discuss the ending that turns the Jurassic Park series upside down. Comparing it to the original sequel will just have you in tears but on its won it isn't a bad film, the factors of witty dialog this action-packed sequel's uneven tone, director J. A. Bayona continues to thrill audiences with jump-worthy suspense and to create a bond between viewers and the dinosaurs has to be the reason it's one of the most talked about films of 2018.
6. Incredibles 2
Since Incredibles came out in 2004, fans have been anticipating for second movie forever. So when Incredibles 2 came out, it's no surprise that fans went completely hooorah! Best part is, the movie didn't disappoint! This long-awaited superhero sequel introduced the Incredible clan to a new generation, and Elastigirl's increased role in Incredibles 2, definitely resonated with many young generations going through all sorts of hormonal imbalance.
7. A Quiet Place
Ironically it got more people talking than the movie itself. Movie goers couldn't stop talking about John Krasinski and Emily Blunt's near-silent thriller A Quiet Place that captured our attention all throughout the movie.  Was it boring? Not at all, the movie was inventive and beautifully crafted for a horror film, and uniquely intriguing. Giving all your senses a rollercoaster ride.
8. Deadpool 2
Ever since the first movie came out, no one could ever forget the sadistic dark film, acted by Ryan Reynolds. So, it was a no brainer for one to hit the movies and watch Deadpool and talk about the film continuously to your friends. Fans loved the insane action, X-Men connections and random cameos.
9. Solo: A Star Wars Story
The film wasn't the best. Conversations around intergalactic origin story Solo was mostly on how poor the movie performed. But regardless of their performance, the broadly entertaining early days of the Star Wars smuggler still raked in millions of dollars and diehard fans continue of buzz about the film whether good or bad. Sometimes a great past and create a great future.
10. Avengers: Infinity War
Avengers: Infinity War united pretty much all of the Marvel Cinematic Universe in a crowd-pleasing battle against Thanos, raking in billions of dollars in the process, of course. Fans spent the run-up to the film speculating about who would die, then spent just as much time discussing who hadn't died. But fans like you and will definitely keep our eyes peeled for the next Avengers series coming out next year.
Here are a bunch of other movies you should check out before the year ends:
Crazy Rich Asians
A Star is Born
Searching
The Nun
Venom
Bohemian Rhapsody
Halloween
Aquaman
Spiderman into the Spider verse
Co-written: ElydaManap