90s kids I hope you're excited for the live-action rendition of Mulan that got just released after months of delays due to the coronavirus, the highly-anticipated live-action Mulan dropped on Disney+ and theatres near you!
Although a remake, the new film diverted from the regular Disney princes route and stuck to its action and character grits not to mention a few fan favourite characters are missing, while others have been added. The directors and producers deliberately went with that specific direction to really showcase the changes, as well as some new additions, to make the film more authentic to Chinese culture and history.
But fret not the new film does pay homage to 
its predecessor, OG Mulan, like this poster 
These identical shots of 1998 Fa Mulan and 2020 Hua Mulan
Well, we're here to talk about a very special person, some of you might recognize her from the sound of her voice in the original film. The OG Mulan herself, Ming-Na Wen, makes a cameo!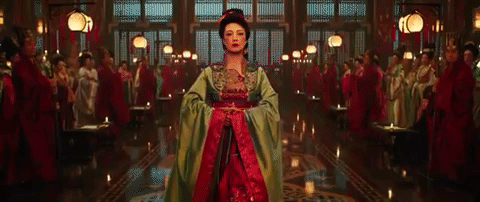 PopSugar
Yes you read that right, if you look a little closer to the film, as Hua Mulan, played by Liu Yifei is walked down the aisle by an esteemed guest and presented to the emperor, so he can thank her for saving his life and China. Take a second look at the esteemed guest, it's none other than Ming-Na Wen, who voiced the animated character back in the 90s!
Also, the famous tear jerking song Reflection has a new rendition from Christina Aguilera, who sang on the original soundtrack