It's Zac Efron's birthday today (18th October)! What better excuse do we have than to celebrate his rather impressive career (mostly his body) than with a selection of our favourite Zac Efron moments.
High School Musical – Bet It On
This sequel movie has made him the heartthrob for all. He has had plenty of chance to showcase his singing abilities in these movies. However, Bet On It has to be agreed as his stand-up performance – he expressed himself not just in songs but also with some seriously passionate dance moves. It's an emotional moment for the character and Zac Efron did not hold back. There were no questions if he would be a star as his performances in this sequels put them to rest.
Hairspray – Ladies' Choice
His role in this 2007 big screen adaptation of this Broadway musical, transported Efron to 1960'S Baltimore. Boy, does he look good sporting some grease backed hair and a suit! Playing the role of Link Larkin, Efron is an absolute dream beau. His best scene is, however, when he sings Ladies' Choice in front of a packed audience. His natural gift for singing and dancing unfolds in this play as he slides across the stage handling the microphone with confidence and style.
Neighbors – Manning The Grill
After many years of playing the good guy, Efron finally went bad in this hilarious comedy, Neighbors (2014). Efron plays Teddy Sanders, a rambunctious fraternity leader. While the film provides him with plenty of opportunities to show off his amazing bod – including an impromptu modelling session with Seth Rogen's character at the end of the movie – perhaps the most worthy moment comes when he stands shirtless manning a grill. There's something about him in this scene that is just so damn hunky.
Dirty Grandpa – The Flex Off
Is there anything better than watching Zac Efron flexing his muscles on stage to the tune of a roaring crowd? How about him doing it while accompanied by Hollywood icon, Robert De Niro? Such was the scene in this Efron – De Niro comedy when the two men compete in a flex off, the crowd could barely contain themselves. As the actors go deeper into the competition, viewers are treated to a ripped Efron showing off his impressively chiseled physique in a variety of poses.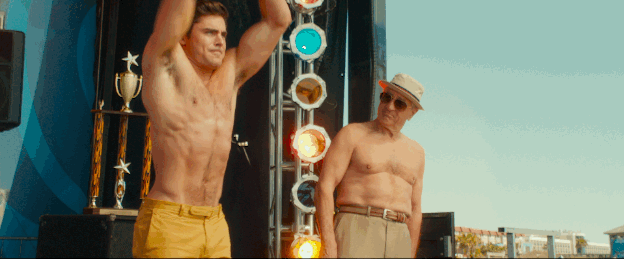 Baywatch – The Challenge 
The heartthrob is clearly taking it to all new level with his performance in Baywatch. In the film, Efron can only be described as a sexy beast. In a particular scene, Efron is challenged on a course of his co-star's choosing. Man, that body of his completing the challenge successfully is just an eye-candy to watch! He might not be as big as his co-star Dwayne Johnson, but he's getting closer to what we could ever imagine. He can rescue us anytime.
Happy Birthday, Zac Efron!
Source: YouTube