Twitter Is Freaking Out Because Zac Efron's Reported New Girlfriend Is Also Named Vanessa
The Nessa in Zanessa is for Vanessa Hudgens only!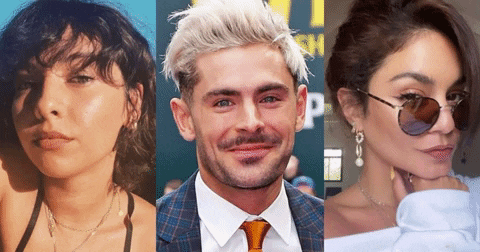 If your heart skipped a beat when you heard that Zac Efron was dating another Vanessa, you're not alone!
Unfortunately, it isn't the Vanessa we've been dreaming for a reconciliation. The actor is not back together with his High School Musical co-star ex, Vanessa Hudgens. Instead, he is reportedly dating Australian model and waitress, Vanessa Valladares.
Zac reportedly met his new boo at a café where she worked before in Byron Bay, Australia. But now, Vanessa has apparently quit her job and has moved in with the actor. Sources close to them have said that things are going pretty well, and while some fans are very happy for Zac, others are hung up on his new girlfriend's name…
The way my brain read Vanessa Hudgens and ran with it 😭😭😭😭 https://t.co/NjrNHpeywM

— Anthony 🔥 (@anthony_MB75) September 8, 2020
Vanessa Hudgens finding out why she's trending pic.twitter.com/mh84ztFuil

— 𝖙𝖍𝖊 𝖌𝖗𝖊𝖆𝖙 𝖌𝖆𝖘𝖕𝖎𝖓𝖌 (@bohemianwrap) September 9, 2020
thought it said vanessa hudgens and the 12 yearold in me started screaming https://t.co/TjdzXDaPvd

— andrew burcl (@popitforpoppa) September 9, 2020
AND THAT'S ON PERIOD. THE NESSA IN ZANESSA IS FOR VANESSA HUDGENS ONLY! https://t.co/WidApw5qAA

— s a y (@doubleJParks) September 9, 2020
Vanessa Hudgens when she sees that y'all made her trend because Zac is dating someone with the same name pic.twitter.com/bSFPCXJQa4

— мαяια ηιкσℓє ☆ (@xFirstBadHabit) September 9, 2020
Thought my wife Vanessa Hudgens had been stolen from me for a sec. We all good pic.twitter.com/Webha0Puc7

— rileyFreeman (@rileyFr97129918) September 9, 2020
The way Vanessa Hudgens is gonna wake up and find her self trending by accident because her ex is dating someone with a similar name lmao pic.twitter.com/pvDzthV7zT

— B. 🇷🇼✨ (@bumkzv) September 9, 2020