Watch: Daniel Radcliffe, David Beckham And More Doing A Special Reading Of 'Harry Potter'
We're witches and wizards and magical beasts!
UPDATE: This week we have football sensation, our British lad David Beckham and Scottish actor David Tennant team up to read you Chapter Eleven: 'Quidditch!
David Tennant and David Beckham team up for Chapter Eleven: 'Quidditch' #HarryPotterAtHome.

Watch now: https://t.co/jwGPKZI5BL pic.twitter.com/ki4Kew2m17

— Wizarding World (@wizardingworld) June 10, 2020
Watch chapters 1-10 down below!
The Wrap/Yahoo
J.K. Rowling and some special guests have you totally covered! Get ready to head back to Hogwarts, Harry Potter fans!
Vocal
Wizarding World announced that the first book in the series, Harry Potter and the Sorcerer's Stone, will be read by a different celebrity every week as part of their new Harry Potter at Home initiative.
Yahoo
And our first guest reading chapter one is none other than Harry himself, Daniel Radcliff!
Check the post down below:
Surprise! We've got a treat for you…From today, amazing friends of the Wizarding World are going to take turns reading Harry Potter book one.

And to start us off with Chapter 1, we think you'll agree we have the perfect narrator…⚡️ #HarryPotterAtHome
https://t.co/w9K77akbou pic.twitter.com/Q03PmjeD5d

— Wizarding World (@wizardingworld) May 5, 2020
Harry Potter star Daniel Radcliffe will be reading the first chapter of the book. Other celebs like David Beckham and Dakota Fanning will be reading as well!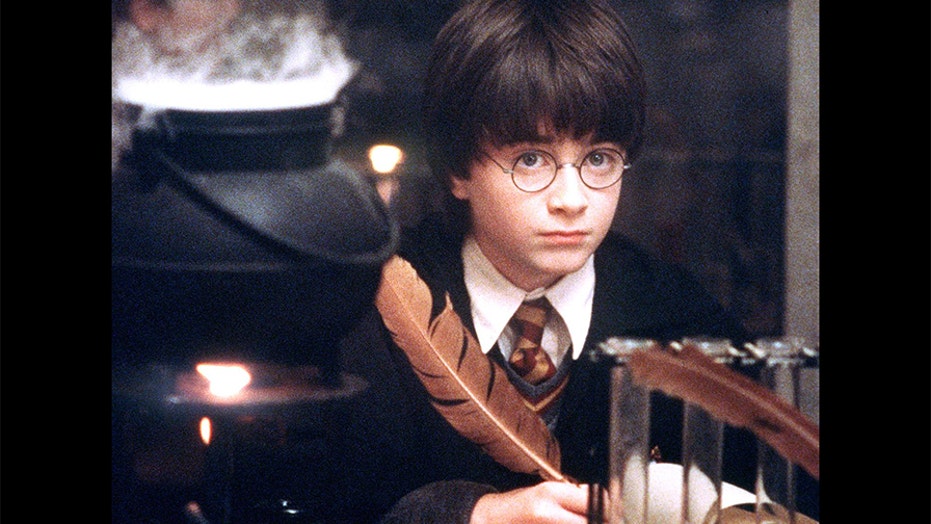 Fox News
So sit back, relax, and even grab your own copy of Harry Potter to follow along with 'cause it will certainly be a very MAGICAL adventure.
Chapter Two: The Vanishing Glass' Read by Noma Dumezweni
Chapter Two is significant in book one as it's the first time we see Harry talk to a snake hinting at things to come…

Watch 'The Vanishing Glass' with @MissDumezweni https://t.co/7rsZW8MTV8#HarryPotterAtHome pic.twitter.com/HekDFerR38

— Wizarding World (@wizardingworld) May 11, 2020
 Chapter Three: 'The Letters from No One' Read by Eddie Redmayne
*Drumroll* We have Chapter Three!

The narrator delivering it is…
Mr E Redmayne, from the sitting room at home, not the cupboard under the stairs.

Open 'The Letters From No One' now. ✉️ #HarryPotterAtHomehttps://t.co/3ow27JC1iG pic.twitter.com/rI4QOVjcCr

— Wizarding World (@wizardingworld) May 12, 2020
Chapter Four: 'The Keeper of the Keys' Read by Stephen Fry
BOOM! It's time to meet Hagrid!

After recording the UK audiobooks over 20 years ago, who better than @StephenFry to once again bring 'The Keeper of the Keys' to life? 🗝️ #HarryPotterAtHome

Unlock Chapter Four now: https://t.co/LgiQ9fFw9f pic.twitter.com/D7esYRVuVn

— Wizarding World (@wizardingworld) May 14, 2020
Chapter Five: 'Diagon Alley' Read by Simon Callow, Bonnie Wright and Evanna Lynch
Three up, two across, three taps to reveal 'Diagon Alley'!

Actor @SimonCallow is joined by Hogwarts alumni @thisisbwright and @evy_lynch reading Chapter Five as we step into Harry's first glimpse of the wizarding world. #HarryPotterAtHome

☂️Watch now https://t.co/f9Us03LtCJ pic.twitter.com/0d6hpnry1Y

— Wizarding World (@wizardingworld) May 19, 2020
Chapter Six: 'The Journey from Platform Nine and Three-Quarters' Read by The Cursed Child Broadway Cast
How many people can you squeeze into one chapter? Let's find out as we jump on board with @DickLeFenwick and the @CursedChildNYC cast for 'The Journey From Platform Nine and Three-Quarters' #HarryPotterAtHome

Watch Chapter Six now:https://t.co/9grFysqQ0x pic.twitter.com/WkjtavULMo

— Wizarding World (@wizardingworld) May 20, 2020
Chapter Seven: 'The Sorting Hat' Read by Olivia Colman, Jonathan Van Ness and Kate McKinnon
Don't be afraid and don't get in a flap, put on 'The Sorting Hat' read by the amazing Olivia Colman.

And for the first time, we have some special cameos! Keep your eyes peeled…#HarryPotterAtHome

Try on Chapter Seven: https://t.co/hTiummgR9l pic.twitter.com/NTvhE0hbAl

— Wizarding World (@wizardingworld) May 27, 2020
Chapter Eight: 'The Potions Master' Read by Alia Bhatt and Alec Baldwin
Channelling our inner Snape and swooping in with *another* chapter!

Bewitch the mind with 'The Potions Master' read by @Aliaa08 with an adorable cameo from Alec Baldwin and his daughter! #HarryPotterAtHome

Head into double Potions with Chapter Eight: https://t.co/abM7VTRRKj pic.twitter.com/ny7DuTFuzt

— Wizarding World (@wizardingworld) May 28, 2020
Chapter Nine: 'The Midnight Duel' Read by Dan Fogler and Alison Sudol
Venture into the forbidden corridor with @MrDanFogler and @AlisonSudol reading Chapter Nine 'The Midnight Duel' coming soon. Keep an eye out for Fluffy! #HarryPotterAtHome pic.twitter.com/F0P08iyszb

— Wizarding World (@wizardingworld) June 1, 2020
Chapter Ten: 'Hallowe'en' Read by Whoopi Goldberg
Swish and flick, it's Chapter Ten! Friend of the Wizarding World and Slytherin @WhoopiGoldberg reads 'Hallowe'en' 🎃 #HarryPotterAtHome

Watch now: https://t.co/lVXEMfNthh pic.twitter.com/pomFjSSt7Q

— Wizarding World (@wizardingworld) June 4, 2020