Thanks to the preview that Ariana Grande just released on her new hit Thank You,Next on Tuesday and the behind-the-scenes photos she's shared throughout the last week, we know that her upcoming "Thank U, Next" music video will feature a plethora of celebrities, many of them actual stars of the four romantic comedies she'll pay homage to in the video: Mean Girls, Legally Blonde, Bring It On, and 13 Going on 30. And thanks to a new, anonymously sourced report from TMZ, we know that there's an unverified rumour that another of those celebrity cameos could come courtesy of the Kardashian-Jenner family.
TMZ's sources fail to provide the name of which Kardashian-Jenner will appear in the video, nor which iconic role she'll take on, so allow us to speculate. For one, while Kim Kardashian West and her daughter North are both avid Grande fans, Kardashian West has repeatedly confessed to being a bad dancer, and thus typically refuses to "bust a move" on camera, not even for her own reality show. Both Kylie Jenner and Khloé Kardashian are likely out of the equations as well, since they've each spent most of the last month away from California, Jenner on tour with Travis Scott, and Kardashian in Cleveland with Tristan Thompson. Kendall Jenner and Kourtney Kardashian have no such alibis, and, therefore, either could plausibly make a cameo in the video. Kendall Jenner and Kourtney Kardashian have no such alibis, and, therefore, either could possibly make a cameo in the video.
While we wait to find out which Kardashian/Jenner, if any, was tapped for a spot in the music video, here's a running guide to the other very familiar faces in the clip.
Jonathan Bennett: The Mean Girls star appears to be reprising his role as Aaron Samuels in Grande's parody of the 2004 film. In Tuesday's preview of the music video, a letterman jacket-clad Bennett pops up to quip, "Ariana Grande told me my hair looks sexy pushed back—she's not wrong."
Stefanie Drummond: "One time Regina George punched me in the face and it was awesome". After claiming in Mean Girls that being punched in the face by Regina George was "awesome," Drummond, too, turned back time to participate in Grande's video. In the preview, she pokes fun at Grande's previous engagement to Pete Davidson, saying, "Ariana broke off an engagement, so I found a guy to propose to me and I broke off an engagement." If that was not awesome I don't know what is.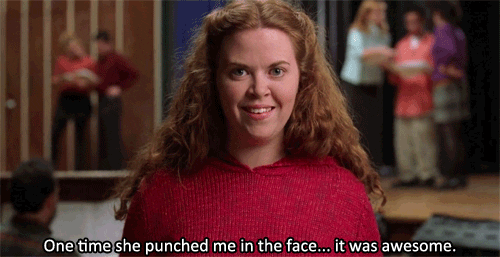 Troye Sivan: Sivan, who integrated with Grande on his song "Dance to This" earlier this year, is also in the Mean Girls-inspired bit. "I heard she's a lesbian now and dating some girl named Aubrey," he says, referring to the error Apple Music initially made when publishing the lyrics to "Thank U, Next." Ouch taking a snide at Apple Troye not bad at all.
Colleen Ballinger: The YouTube sensation, perhaps best known for her YouTube persona "Miranda Sings," a visibly pregnant Ballinger appears in Grande's video to joke, "One time on Twitter, I heard Ariana Grande got pregnant, so I got pregnant, so we could be pregnant at the same time. Turns out it was just a rumour."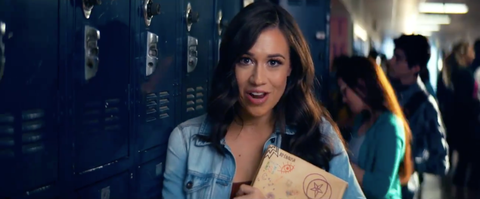 Gabi DeMartino: YouTube beauty guru, Gabi at the very end of this week's sneak peek of the video, DeMartino, who has previously inspired rage in Grande's fans for her impressions of the singer, pays homage to Drummond's original line. "Ariana says 'honest to god, knock me out,' so I decided to punch myself in the face. It was awesome," she deadpans.
Elizabeth Gillies: The famous series Dynasty actress, who previously co-starred with Grande on Nickelodeon's Victorious, steps into Lindsay Lohan's, Cady Heron's shoes in the Mean Girls-inspired portion of the music video, per another of Grande's Instagram posts. Her resemblance to the character was so uncanny that even prompted the original Cady to write on Instagram, "ain't nobody Lindsay Lohan like the real Lindsay Lohan. But so flattered by @arianagrande loving #MeanGirls so much! Also, I love #dynasty."
Toulouse the Beagle-Chihuahua Mix: Ariana Grande's dog Toulouse takes on the testing role of Legally Blonde's pup Bruiser Woods and, according to a tweet from Grande he does so with poise. "He's the most professional living being i've ever been on set with and no part of me is kidding," she wrote.
Not forgetting Ariana will be releasing her Docu series (Nov 29th, US timing) surrounding her Dangerous Woman Tour back in 2017. Here is the long awaited trailer: