Did you grow up reading and watching the adventures of Winnie The Pooh and Friends?!
Remember, Pooh who loves honey, Tigger who is always fun, Eeyore the adorable donkey, tiny but mighty inside Piglet, and so many other lovable characters…
Well Disney, just released the first trailer for "Winnie the Pooh" on Tuesday, titled '"Christopher Robin"!!!
And it looks super gooooooood!
I know…. August 3rd, 2018, feels like a loooooong time!
So let's flashback to our childhood memories of watching Winnie the Pooh with these;
Five Winnie The Pooh Quotes To Get You Through Life.
1. Be as happy and fun as TIGGER!!!
2.How to make friends?!! Start with HELLO!!! 3.Love every part of yourself because you are SPECIAL, just the way you are like POOH!!!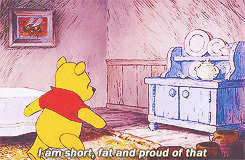 4. You might feel tiny at times, but NEVER forget that in the inside, YOU ARE MIGHTY!!! 5.  YES, just like what Christopher Robin said, "YOU ARE BRAVER THAN YOU BELIEVE, STRONGER THAN YOU SEEM AND SMARTER THAN YOU THINK!!! Always! Do you feel better already? *HUGSSSSS!
Source: Disney, Giphy